Februar 2018 PC Spiele Release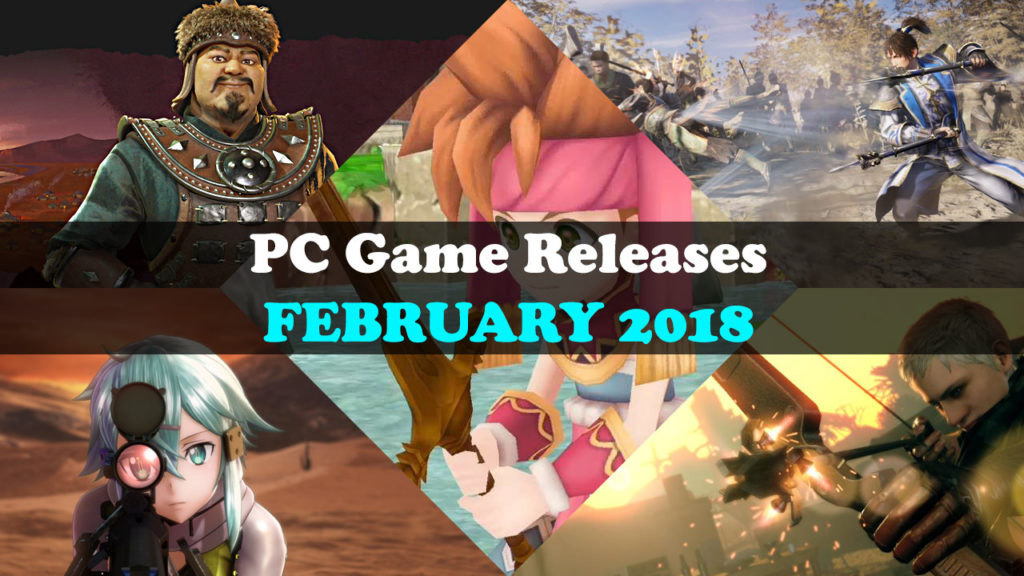 ---
2018 begann sehr stark für PC-Spiele und es scheint nicht so, als würde sich in absehbarer Zeit etwas ändern. Der Februar hat einige große Release, und wir haben die besten für euch hier aufgelistet. Darauf kannst du dich in den nächsten Tagen freuen.
---
CIVILIZATION 6 RISE AND FALL
8. Februar
---
---
Civilization 6 war nicht der beste Teil in der Serie, und selbst Langzeit-Fans hatten beim Start gemischte Reaktionen. Rise and Fall so scheint es jedoch, als ob es das Vertrauen in die Franchise wiederherstellen wird. Die erste Erweiterung des Spiels wird nicht nur neue Zivilisationen und Anführer bringen, sondern es werden auch unzählige neue Systeme hinzugefügt, die das Gefühl vermitteln, dass ihr ein völlig anderes Spiel spielt.
---
DYNASTY WARRIORS 9
13. Februar
---
---
Der "one vs. thousands" -Hack-N-Slash geht in seiner neuesten Iteration auf. Ihr könnt das ausgedehnte Land China als eine einzige Karte erkunden, die verschiedene Regionen, Biome und Klimazonen umfasst. Das Spiel enthält auch eine 10-Kapitel-Geschichte, die mit dem Yellow Turban Rebellion beginnt. Die Spieler haben die Freiheit, das Tempo zu wählen, mit dem sie jedes Kapitel absolvieren, sei es, indem sie jede Mission absolvieren oder direkt auf das Ziel hinarbeiten.
---
KINGDOM COME DELIVERANCE
13. Februar
---
---
Es ist selten für ein mittelalterliches RPG, auf Realismus als sein Hauptverkaufsargument zu setzen, aber genau das ist Kingdom Come Deliverance. Hier wirst du kein König, kein Ritter oder irgendeine Art von Held sein. Stattdessen wirst du als Sohn eines Schmieds beginnen. Das soll nicht heißen, dass das Spiel frei von Klischees ist, da die jüngsten Ereignisse dich auf die Suche nach Rache voran treiben. Ihr werdet keine Drachen oder Magie hier finden, nur ein rein lohnendes, taktisches Schwertspiel.
---
MONSTER ENERGY SUPERCROSS THE OFFICIAL GAME
13. Februar
---
---
Es ist selten, ein Spiel zu finden, dass die Intensität und Komplexität von Rennmotorrädern simulieren kann. Monster Energy Supercross bietet jedoch eine äußerst eindringliche und realistische Erfahrung der wettbewerbsfähigsten Offroad-Motorradrennen-Meisterschaft der Welt. Hier findet ihr genaue Reproduktionen von Bikes, Strecken, Stadien und Zubehör, sowie Zugriff auf eine Reihe von Anpassungsmöglichkeiten und einen Streckeneditor.
---
SECRET OF MANA
15. Februar
---
---
Nimm das Mana-Schwert noch einmal auf und begib dich auf die Suche nach dem Gleichgewicht in der Welt, diesmal in einer komplett remasterten 3D-Welt. Begleitet Randi, Promm und Popoi, wie sie die 8 Elemente dazu bringen, die magische Kraft von Mana wiederzubeleben. Mit einem verbesserten Gameplay, passend zu einem modernen Action-RPG, werden Fans des Originals und Newcomer gleichermaßen diese farbenfrohe und lebendige Welt wiedersehen.
---
FE
16. Februar
---
---
Die Kreaturen des Waldes werden von mysteriösen Einheiten namens Silent Ones angegriffen. Es liegt an Fe, einer fuchsähnlichen Kreatur, die Kräfte der Waldwesen zu nutzen, um die Silenct Ones zu stoppen. Ihr werdet hier keinen finden, der euch begleitet. Stattdessen zwingt euch dieser Action-Adventure-Titel dazu, mit verschiedenen Interaktionen zu experimentieren, um bestimmte Ergebnisse zu erzielen, wobei immer daran gedacht werden sollte, dass alles miteinander verbunden ist.
---
METAL GEAR SURVIVE
22. Februar
---
---
Das erste Kojima-lose Metal Gear ist ein Spin-Off von The Phantom Pain und kombiniert die intensive Action des Spiels mit Stealth-Gameplay mit taktischer Basisverteidigung und Überleben. Als Mother Base von XOFs Überraschungsangriff stürzt, erscheint ein intensives Licht vom Himmel und fängt an, alles hinein zu saugen und euch in eine parallele Welt zu transportieren. Dort führt eine seltsame Infektion dazu, dass sich Lebensformen in groteske Kreaturen verwandeln, die Wanderers genannt werden.
---
SWORD ART ONLINE FATAL BULLET
23. Februar
---
---
Kehrt zurück in die Welt von Gun Gale Online, diesmal mit eurem eigenen Avatar und erlebt dabei eine originelle Geschichte, die als Action-Rollenspiel für Dritte erzählt wird. Nutzt ArFa-Sys, eine seltene KI, die euch in deinen Abenteuern durch die zerstörten Landschaften führt. Kämpft neben Kirito, Asuna, Sinon und dem Rest der Bande, während ihr euer Arsenal an Waffen und Fähigkeiten aufbaut, um zum ultimativen Helden von GGO zu werden.
---
PAST CURE
23. Februar
---
---
Folgt Ians Abenteuern, während er zwischen Traumwelten und Realität hin und her geht, während er nach den fehlenden Teilen seines Geistes sucht. Past Cure ist eine filmische, storygetriebene Erfahrung, bei der die Spieler bewusstseinsverändernde Fähigkeiten wie Zeitmanipulation und Astralprojektion nutzen. Die Realitätsstufen sind stärker auf den Kampf ausgerichtet, während die verschiedenen Ebenen der Traumwelt dazu neigen, mehr von euren Rätsel- und Überlebensfähigkeiten zu testen.
---
Na, was haltet ihr von unseren Spiele-Releases im Februar? Ist euer Top-Spiel dabei? Oder haben wir euch neugierig auf eines der Spiele gemacht?
Lasst es uns in den Kommentaren unten wissen.
---