Evil Dead: Das Spiel erhält einen neuen Song von Method Man
Evil Dead: The Game erhält einen exklusiven Song von Method Man, der ein großer Fan der Evil Dead-Reihe ist.
Von   
  Merc  | 

  gamepartner78
Der Wu Tang Clan-Rapper Method Man ist ein langjähriger Fan von Sam Raimis Werken, insbesondere von The Evil Dead. Vor diesem Hintergrund haben sich die Macher von Evil Dead: The Game an ihn und den Produzenten Statik Selektah gewandt, um einen Track exklusiv für das Spiel zu produzieren.
Der Hip-Hop-Track mit dem Titel Come Get Some" enthält Musiksamples aus der Originalmusik zu The Evil Dead von Joseph LoDuca aus dem Jahr 1981. Bruce Campbells Gesangssamples wurden ebenfalls in dem Track verwendet – er ist die Stimme von Ash Williams aus Evil Dead: The Game.
Außerdem sind Method Man's Sohn PXWER und U-God's Sohn iNTeLL von 2nd Generation Wu zu hören, die zusätzlich von Steve Molitz produziert wurden.
Method Man war schon immer ein erklärter Fan von Horrorfilmen und Evil Dead, und er hatte sogar Referenzen in seinen Texten, eine der bemerkenswertesten war seine "Dead by Dawn!"-Referenz auf "N 2 Gether Now", das 1999 mit Limp Bizkit veröffentlicht wurde.
---
EVIL DEAD: DAS SPIEL VORBESTELLEN
---
Wenn du Evil Dead: The Game jetzt vorbestellst, erhältst du zwei Ash-Outfits als Bonus: das Ash-Williams-S-Mart-Angestellten-Outfit und das Ash-Williams-Gallant-Ritter-Outfit.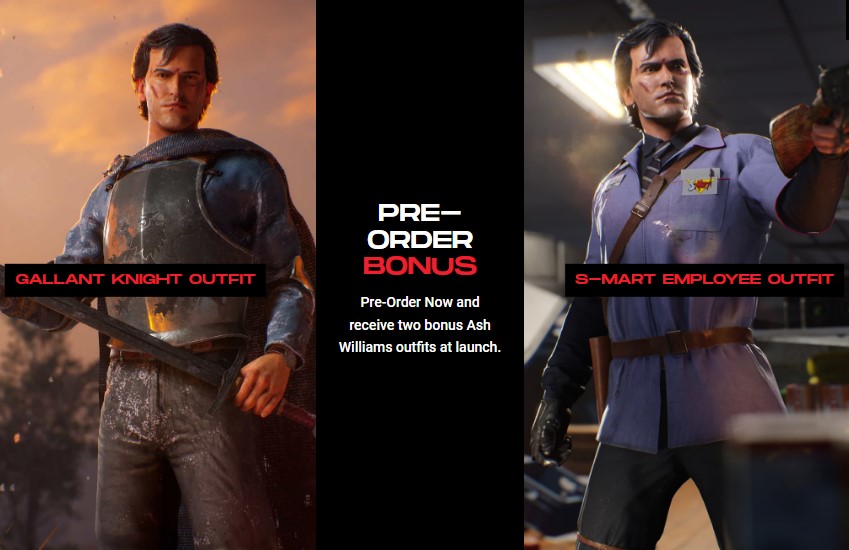 Es wird ab dem 13. Mai 2022 auf PC (Epic Games), PS4/PS5, Xbox one und Xbox Series erhältlich sein. Für die Nintendo Switch wird es zu einem späteren Zeitpunkt erscheinen.
---
WEITERE RELEVANTE ARTIKEL
---