Es ist das 10-jährige Jubiläum von Respawn Entertainment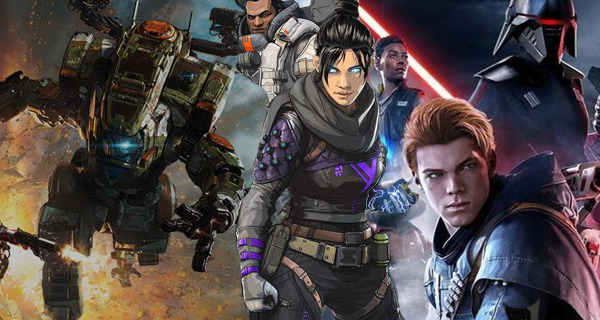 Respawn Entertainment feiert sein 10-jähriges Bestehen. Sie sind das Studio hinter großen Spielen wie Star Wars Jedi: Fallender Orden, Apex Legends und Titanfall.
In einem Beitrag schrieb Respawn-Boss Vince Zampella: "Es war unglaublich zu beobachten, wie Respawn und die talentierte Gruppe von Leuten weiter wachsen, vom anfänglichen Ego-Multiplayer-Shooter-Team zu etwas, das heute so viel mehr ist. Unser Wachstum unterstreicht unser Bestreben, innovativ zu sein und die Konvention herauszufordern. Wir haben preisgekrönte Einzelspieler-Kampagnen, ein massives, unterhaltsames und freies königliches Kampfspiel mit einzigartigen Charakteren und einer einzigartigen Story, die durch einen robusten Live-Service geliefert wird, und sogar ein beeindruckendes VR-Erlebnis geschaffen, das noch in diesem Jahr folgen wird.
Zampella fügte außerdem hinzu: "Wenn das vergangene Jahr irgendein Testament ist, planen wir, weiterhin großartige neue Spiele für unsere Fans zu liefern, an denen sie sich in den kommenden Jahren erfreuen können. 2019 war eines der denkwürdigsten Jahre überhaupt, angefangen mit der Einführung von Apex Legends im Februar bis hin zur Verleihung der Medal of Honor: Above and Beyond und die Veröffentlichung von Star Wars Jedi: Fallen Order. Natürlich dürfen wir Titanfall nicht vergessen, das allen hier bei Respawn sehr am Herzen liegt, denn es ist das Franchise, das wirklich dazu beigetragen hat, das Studio auf die Landkarte zu setzen und der Welt zu zeigen, welches Kaliber von Spielen wir machen wollen. Steve Fukuda und sein Team waren maßgeblich daran beteiligt, diese Serie zum Leben zu erwecken".
Da der Titel Titanfall allen sehr am Herzen liegt, wurde Zampella in einem Interview mit IGN über die Zukunft des Titanfall-Universums befragt. Er sagte: "Derzeit ist nichts in Entwicklung. Aber es ist immer da. Man sieht, dass [durch die Überlieferungen in Apex Legends] kleine Dinge zurückkommen. Irgendwann würde ich mir persönlich wünschen, dass es dort eine Art Auferstehung gäbe. Wir werden sehen, ob ich das möglich machen kann."
Was auch immer als Nächstes aus diesem Studio kommt, wir freuen uns darauf. Alles Gute zum 10-jährigen Jubiläum von Respawn Entertainment! Mögen Sie noch viele weitere Jahre vor sich haben.