The Elder Scrolls V – Skyrim Legendary Edition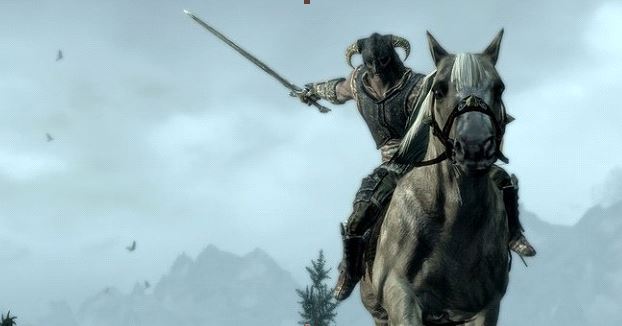 2700 Spielstunden auf Steam, größte Modding-Community der Welt, über 20 Millionen verkaufte Exemplare weltweit?
Das können nicht viele Spiele. The Elder Scrolls V – Skyrim schon. 
Und das auch absolut verdient, wie der Test zeigen wird.
---
Story 8/10
Wir wachen in einer Kutsche auf, weil wir versucht haben die Grenze zu überqueren. Von allen bekommt man gesagt, dass man sowieso gleich sterben wird und sich keine Hoffnung machen braucht. Soweit, so Elder Scrolls.
Zwei Minuten Später liegen wir auch schon mit unserem frisch erstellten Charakter auf dem Block, wo wir erledigt werden sollen. Doch plötzlich taucht mysteriöserweise ein Drache auf, von denen es wohlgemerkt in Himmelsrand seit Jahrtausenden keine mehr gibt, und rettet uns das Leben.
Kurz danach stellt sich auch schon die erste Entscheidung: Raloph oder Hadvar, Kaiserliche oder Sturmmäntel. Als wir uns dann wieder in Sicherheit wiegen und dem Jarl von Weißlauf von den Geschehnissen berichten sollen, stellt sich auch schon heraus, dass wir das legendäre Drachenblut sind, dessen Aufgabe es ist, die Drachen zu besiegen.
Danach gibt es zwei große Haupthandlungsstränge ins Skyrim, den Bürgerkrieg und die Geschichte mit den Drachen. Dabei gibt es auch immer wieder kleinere Entscheidungen zu treffen, aber einen großen Geschichtsbaum sollte man nicht erwarten.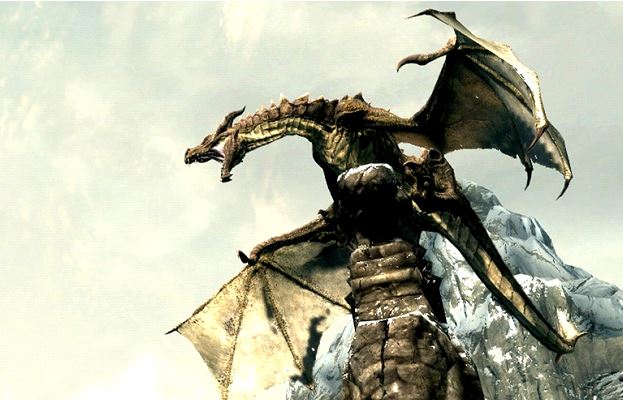 Das ist aber zu verkraften, da Skyirm vor allem auf viele kleine Quests und die Open-World-Sandbox setzt. Das einzige was bei der Story trübt, ist, dass nachdem wir die Drachen aus Himmelsrand vertrieben haben, immer noch an jeder Ecke ein solcher lauert.
Die kleineren Quests, die wirklich überall in der Welt verteilt sind, sind meistens schön erzählt und bieten manchmal auch wirklich Tiefgang. Am spaßigsten sind die Quests mit den Daedrafürsten, wo wir beispielsweise im Kopf eines verrückten Aufgaben lösen müssen.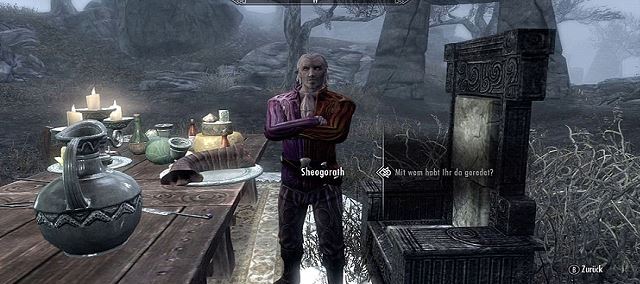 ---
Gameplay 9/10 Das Gameplay in Skyrim ist gut und die Steuerung geht sowohl aus der Ego-Perspektive als auch aus 3rd-Person-Sicht locker aus der Hand. Spielen kann man sowohl mit Maus-Tastatur-Kombination als auch mit einem Xbox 360 Controller.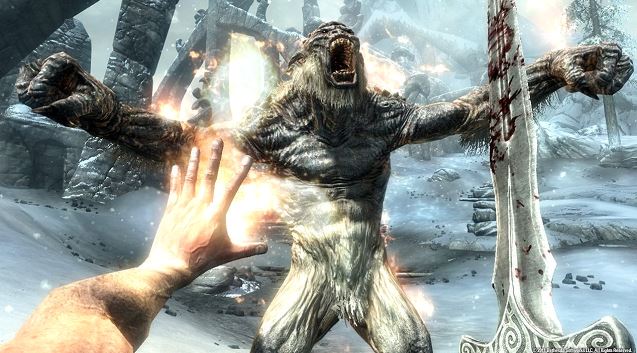 Spielen tut man entweder in der First oder Third-Person-Sicht. Dabei hält man in der linken Hand sowie in der rechten Hand entweder Schwert, Schild, Axt, Dolch, Hammer oder Magie. Außerdem gibt es Zweihandwaffen á la Großschwert, Bogen oder Zauberstab.
Der Schwierigkeitsgrad ist sehr skalierbar und verläuft von Novize (zu einfach ) über Adept (Perfekt für Anfänger mit ein bisschen Erfahrung) bis hin zu Legendär (Richtig herausfordernd).
Wie Ihr Euren Charakter gestaltet ist voll und ganz euch überlassen. Ob Ihr Euch als Assassine mit zwei Dolchen an die Gegner heranschleicht, mit dem Bogen von der Ferne Kopfschüsse verteilt oder doch direkt als Ork mit schwerer Rüstung und Zweihänder in den Kampf stürmt. Die KI verhält sich größtenteils realistisch, nur manchmal könnten sie im Kampf ein wenig mehr blocken und Heiltränke benutzen.
Um schnell von Ort zu Ort zu kommen gibt es vier Möglichkeiten: Entweder Ihr lauft, Ihr reitet, Ihr nehmt die Kutsche oder Ihr benutzt einfach die Schnellreisefunktion, wenn Ihr den Ort schon erkundet habt. Beim Reiten könnten die Pferde etwas schneller sein, jedoch ist der berittene Kampf ziemlich cool.
Überall in Himmelsrand verstreut befinden sich Höhlen, Dörfer, NPCs, Schreine und vieles mehr, das es lohnt erkundet zu werden. Langeweile werdet Ihr bei diesem Spiel bestimmt nicht verspüren. Ihr könnt auch alle Objekte, die in der Welt verstreut sind aufsammeln, sowie in Häuser einbrechen und die Wertsachen Eurer Mitmenschen stehlen. Dabei solltet Ihr Euch aber nicht von den Wachen erwischen lassen.
In Skyrim gibt es fünf unterschiedliche Organisationen, denen Ihr euch anschließen könnt. Aber mehr will ich nicht verraten, spielt einfach drauf los und seht, was es alles zu entdecken gibt.
---
Atmosphäre 10/10
Atmosphärisch bietet Skyrim wirklich die erste Klasse. Man kommt in eine große Stadt und denkt sich: WOW. Die NPCs gehen Ihren Tagesabläufen nach, reden miteinander, interagieren mit der Umgebung, putzen, holen Wasser oder hacken Holz.
Aber nicht nur in Städten ist die Atmosphäre wunderbar. Im Wald hört man bei Nacht hinter sich ein Knacken und auf einmal steht ein ausgewachsener Werwolf vor Euch, da kann man schon mal die Flucht ergreifen. Auch in den Höhlen ist die Atmosphäre toll, vor allem wenn auf einmal vor einem ein Skelett erwacht und auf euch losgeht. Auch der Sound ist immer sehr stimmig und passt perfekt zum Allgemeinbild von Skyrim. Die deutsche Vertonung ist größtenteils auch gut gelungen.
---
Technik 8/10
Technisch überzeugt die Bethesda eigens für Skyrim entwickelte Creation-Engine vor allem mit moderaten Hardwareanforderungen bei Top Gesamtbild und Atmosphäre. Dies wird jedoch durch die oft matschigen Texturen und die wenigen Features der Engine getrübt.
Beispielsweise benutzt Skyrim nur Direct X 10, anstatt die neuere Version Direct X 11. Bei den Texturen lässt sich jedoch mit dem von Bethesda herausgebrachtem HD Texturenpaket Abhilfe schaffen, das die meisten Texturen auf eine höhere Auflösung bringt.
Dafür läuft Skyrim auch auf nicht so starken PCs in der Full-HD Auflösung mit höchsten Details sehr flüssig.

Im Spiel gibt es durch gutes Antialising fasst keine Treppchenbildung und die Objekte ploppen nicht plötzlich auf, sondern werden dank der großen Sichtweite schon früh vom Spieler gesehen. Bei niedrigen Grafikeinstellungen sieht das jedoch anders aus.
---
DLCs 9/10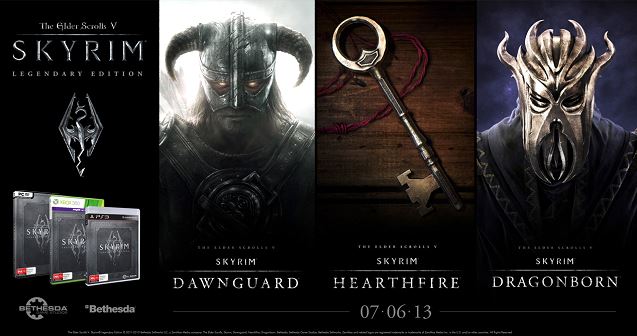 Im Lieferumfang der Legendary-Edition von Skyrim befinden sich neben dem Hauptspiel noch die drei Add-Ons Dawnguard, Hearthfire und Dragonborn.
In Dawnguard dreht sich alles um die Verfolgung der Vampire, in Hearthfire könnt Ihr Euer eigenes Haus bauen und in Dragonborn will ein anderes Drachenblut Euch umbringen. Die Storys von Dawnguard und Dragonborn sind schön erzählt, wobei Dragonborn, dass sogar eine eigene Insel mit eigener Karte und vielen Quests mit sich bringt, das beste der drei Add-Ons ist.
Hearthfire ist etwas für Bauwütige, die sich gerne Ihr eigenes Haus bauen möchten, anstatt in ein von Bethesda vorgefertigtes Heim zu ziehen.
---
Sonstiges (Mods) 10/10
Mit einem Aspekt jedoch glänzt Skyrim ganz besonders. Mit dem Mod Support. Nicht ohne Grund ist Skyrim das Spiel mit den meisten Mods überhaupt. Es gibt Mods, die das Gameplay verändern, Mods die Waffen, Rüstungen oder Zauber hinzufügen, Mods die die Grafik verbessern, Mods die neue Haare und Bärte hinzufügen, Mods die neue Quests und neue Länder hinzufügen und sogar Mods, die aus Skyrim ein ganz anderes Spiel machen, mit eigenen Monstern, Landen, Quests, Items, Skillsystem und mehr, wie beispielsweise das von deutschen Moddern stammende Enderal.
Da es so viele Mods gibt, kann sich jeder sein eigenes Skyrim zusammenbasteln, wie er es gern hätte. Bethesda betonte auch, dass die Elder Scrolls Reihe von der Community lebt.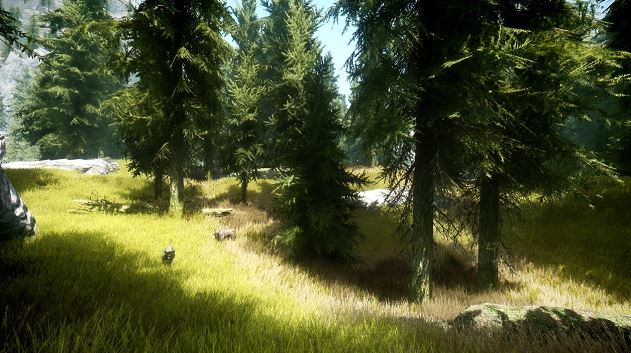 So schön kann Skyrim mit Mods sein.
---
Fazit
Insgesamt ist Skyrim ein tolles Open-World-RPG, dass vor allem durch die unglaubliche Atmosphäre und den großen Erkundungswahn glänzt. Dabei hat es ein paar kleine Schwächen in Sachen Story und Grafik, die jedoch durch den überragenden Mod Support und die vielen kleinen Quests und Möglichkeiten wieder wettgemacht werden.
---
Wertung
Story 8/10 | Gameplay 9/10 | Atmosphäre 10/10 | Technik 8/10 | DLCs 9/10 | Sonstiges 10/10 | Gesamt 94/100
---