Die besten PC-Spiele für August 2018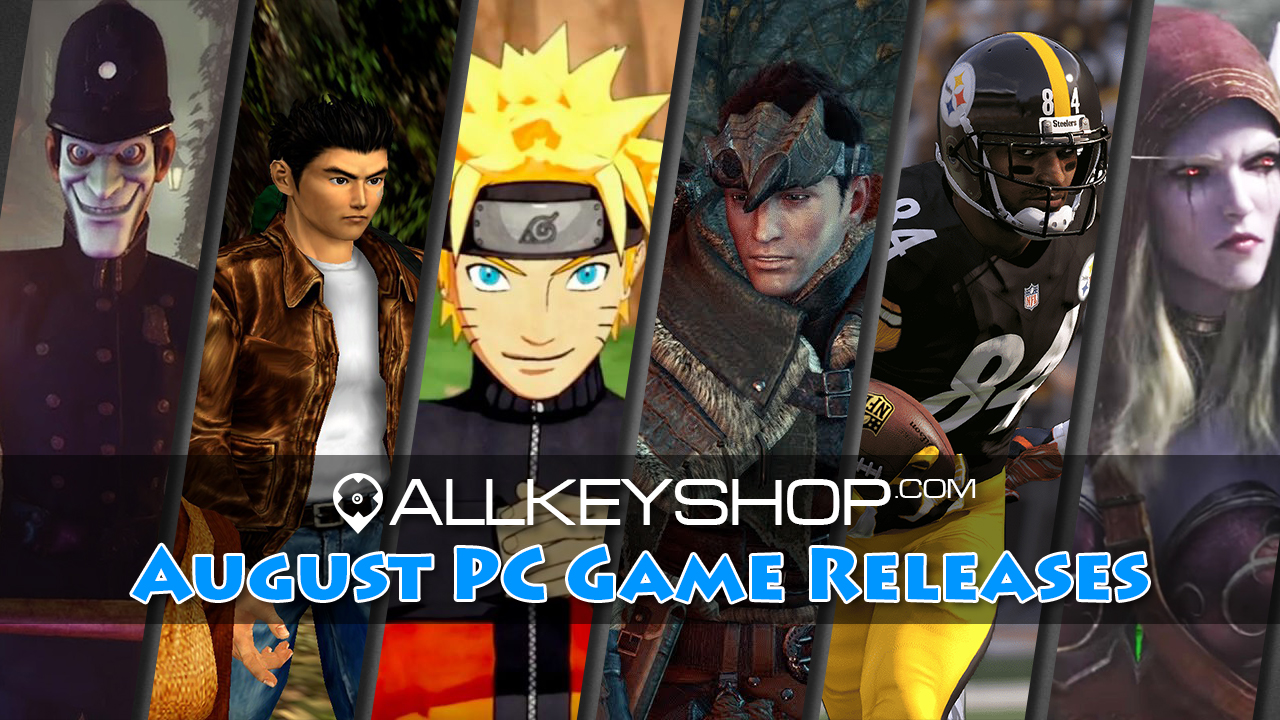 ---
Ein weiterer Monat ist gekommen und der Juli vergangen und hat zu deinem Backlog mehr Spiele hinzugefügt. Aber wenn du diesen Monat etwas Neues suchst, bist du hier genau richtig. Hier sind die Top-PC-Spiele für August 2018:
---
Yakuza 0 – 1. August
Endlich am PC, folge den Abenteuern von Kazuma Kiryu in Tokyo und Osaka in den 80ern, als er sich in eine Welt der Probleme verstrickt, als eine einfache Besorgung bei einem Mordfall endet. Wechsle zwischen 3 verschiedenen Kampfstilen und erlebe eine lebendige, atmende Welt mit 100 Geschichten.
---
Overcooked 2 – 7. August
Die verzweifelte Restaurant-Management-Sim kehrt zurück. Reise zurück in das Onion Kingdom, während du dein Team von Köchen versammelst, um die Welt wieder zu retten. Spiele alleine oder mit Freunden, entweder lokal oder online, und erlebe neue Mechaniken, Themen und Rezepte, während du durch eine brandneue Weltkarte reist.
---
Monster Hunter World – 9. August
Das Warten ist endlich vorbei! Ziehe deine Rüstung an und schärfe dein Schwert für eine Monsterjagd, nutze deine Umgebung und die Landschaft zu deinem Vorteil, wenn du gigantische Bestien für diese begehrten Beutetrophäen absetzt. Plus, es gibt eine Menge Crossover mit großen Namen im Gaming.
---
Madden NFL 19 – 10. August
In diesem Jahr hat EA Sports den Fans zugehört, als sie den zweiten Teil der Longshot-Kampagne Homecoming mitbrachten. Der hochgelobte Story-Modus kehrt mit ebenso viel Erzählung zurück, aber auch mit so viel mehr Gameplay. Füge neue Funktionen hinzu, wie echte Spielerbewegungen, schiebe den Stapel und  mache deinen Schnitt und damit hast du die endgültige American Football-Erfahrung.
---
We Happy Few – 10. August
Nach 2 Jahren Early Access ist das psychedelische Abenteuer von Compuly Games endlich bereit für einen kompletten Start. Tritt in ein retro-futuristisches England der 1960er Jahre ein, in dem die Bürger in einem ständigen Zustand der drogeninduzierten, fröhlichen Verleugnung sind. Spiele als 3 verschiedene Charaktere, deren Geschichten ineinandergreifen, während du kämpfst, um aus dem dystopischen Gefängnis Wellington Wells zu kommen.
---
World of Warcraft: Battle for Azeroth – 14. August
---
The Walking Dead: The Final Season – 14. August
Erlebe das Finale von Clementines Geschichte in einer ganz anderen Perspektive. Das preisgekrönte Abenteuer endet mit einem brandneuen visuellen Stil, einer neuen Over-the-Shoulder-Kamera und neuen Mechaniken, die sich alle zu einem noch nie dagewesenen Erlebnis zusammenfügen. Das willst du nicht verpassen.
---
Shenmue 1 & 2 – 21. August
Die Dreamcast-Klassiker kehren zurück. Erlebe zwei epische Abenteuer, die für moderne Plattformen remastered wurden und zum ersten Mal auf dem PC verfügbar sind. Spiele als Ryo Hazuki, ein jugendlicher Jujitsu-Künstler, der den Tod seines Vaters rächen will. Erforsche eine offene Welt, suche nach Hinweisen und vernichte Feinde und Bosse mit dem Hazuki-Stil von Jujitsu.
---
F1 2018 – 24. August
Wenn du Geschwindigkeit willst, dann suche nicht weiter. Die diesjährige Wiederholung des offiziellen Videospiels der FIA FORMULA ONE WORLD CHAMPIONSHIP bietet mehr klassische F1-Autos als jemals zuvor, das genaueste F1-Autosimulationsmodell bis jetzt, atemberaubende Grafiken und neue Strecken für diese Saison.
---
Strange Brigade – 28. August
Die Hexenkönigin Setei ist auferstanden und bedroht das Ägypten der 1930er Jahre. Gehe solo oder mit bis zu 3 Freunden zusammen und übernehme die Rolle von 1 von 4 furchtlosen Glücksjägern, die sich auf den Umgang mit dem Übernatürlichen spezialisiert haben. Kombiniere Feuerkraft mit magischen Künsten, während du Seteis Armee von mythologischen Monstrositäten angreifst.
---
PES 2019 – 30. August
Das WM-Fieber ist vielleicht vorbei, aber Fußballfans weltweit hören nie auf, den Sport zu lieben. Die diesjährige PES bietet eine große Anzahl an lizenzierten Ligen, 11 neue Fähigkeiten, verbesserte Animationen, visuelle Müdigkeit, einen komplett überarbeiteten MYCLUB-Modus und eine ganze Menge David Beckham.
---
Naruto to Boruto: Shinobi Striker – 31. August
Naruto kehrt in einem neuen 4-Mann Team Brawler zurück. Formiere dein Team und kämpfe gegen andere Ninjas online, um zu beweisen, wer der Beste ist. Das Spiel bietet neue Visuals, die von Grund auf neu entwickelt wurden, und ein dynamisches Gameplay für Dritte, mit dem die Spieler die Umgebung zu ihrem Vorteil nutzen können. Bist du bereit, Team 7 wieder zu vereinen?
---
Und das war's auch für die besten PC-Spiele im August 2018. Wenn du eines dieser Spiele ausprobieren willst, dann schau dir die besten Angebote für jeden Titel gleich hier bei Keyforsteam.de an.
---