Die am meisten erwarteten Spiele für 2020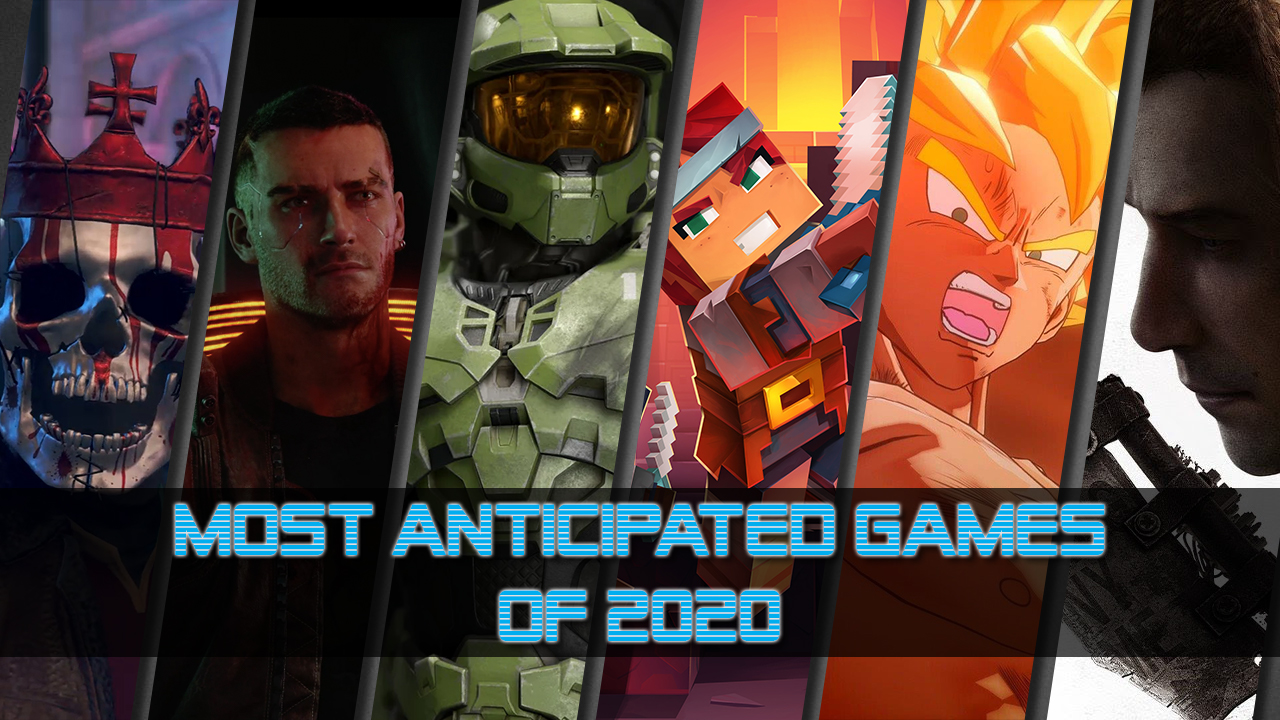 ---
Top 10 der erwarteten Spiele für 2020
---
Mit Watch Dogs 2 und seinem Vorgänger hatte Ubisoft einen Präzedenzfall für erstaunliche Spieleentwicklung geschaffen, der von Entwicklern und Spielern gleichermaßen geschätzt wird. Watch Dogs: Legion ist somit eines der am meisten erwarteten Spiele für 2020. Sein Fälligkeitsdatum, der 6. März, kann nicht schnell genug kommen, vor allem für Fans, die einen Blick auf die Epizität geworfen haben, die in den veröffentlichten Promo-Trailern kommen wird. Es wird für PlayStation 4, Google Stadia, Microsoft Windows und Xbox One erhältlich sein.
---
Vampir: The Masquerade – Bloodlines 2 ist eine Fortsetzung des kult-klassischen Vampirs: The Masquerade – Bloodlines und eines der am meisten erwarteten Spiele im Jahr 2020. Ähnlich wie sein Vorgänger zeichnet es sich durch reaktionsschnelles Storytelling und schnelle Kämpfe aus, die aus der Perspektive der First-Person ausgeführt werden. Fans von Bloodlines und denjenigen, die von den Gameplay-Trailern angelockt werden, zählen die Tage bis März 2020, an denen sie zum ersten Mal mit der überzeugenden Besetzung von blutrünstigen Charakteren interagieren werden.
---
Am 16. April 2020 wird CD Projekt das Action-RPG-Meisterwerk Cyberpunk 2077 veröffentlichen. Die Präsentation des Entwicklers auf der E3 2019 hat die bereits bestehenden hohen Erwartungen der Spieler an den Titel sicherlich noch gesteigert. Laut der Präsentation werden die Spieler die Rolle des Protagonisten V übernehmen, der ein Söldner ist, der mit einem tödlichen Arsenal von Waffen bewaffnet ist, die ihm helfen, eine gewaltige Macht über drei Charakterklassen hinweg zu werden. Das Spiel wird für PS4, Xbox One und PC veröffentlicht.
---
Tom Clancy's Rainbow Six Quarantine soll die neueste Folge der Rainbow Six Serie sein. Es ist viele Jahre in die Zukunft im Universum von Rainbow Six gerichtet, wo Rainbow Six Quarantäne-Aufgabenteams von 3 Personen einen mutierenden außerirdischen Virus bekämpfen, der ihr Leben bedroht. Spieler, die das Rainbow Six Belge's Outbreak Event in Operation Chimera gespielt haben, werden viele vertraute Elemente im Spiel entdecken, da es sich für dieses Event inspirieren lässt. Das Spiel wird innerhalb des ersten Quartals 2020 fallen.
---
Das Dragon Ball Anime Franchise ist eines der dominierendsten Franchiseunternehmen der Welt, das viel Aufmerksamkeit für alle Videospieltitel generiert, die sich von ihm inspirieren lassen. Dragon Ball Z Kakarot ist der neueste dieser Titel, der entwickelt und wie erwartet mit Spannung erwartet wird. Im Spiel erleben die Spieler die Geschichte von Goku und die epischen Schlachten, seine Ernährung und sein Training wie im DBZ-Universum. Dragon Ball Z Kakarot wird für PC, Xbox One und PS4 freigegeben.
---
Dying Light 2 ist ein Survival Horror Action Rollenspiel, das im ersten Quartal 2020 veröffentlicht werden soll. Es ist davon auszugehen, dass es angesichts seiner beeindruckenden Erscheinung und des Erfolgs seines Vorgängers sehr begehrt sein wird. Die Geschichte des Spiels dreht sich um eine Pandemie, die die Menschheit heimgesucht hat und ihre Zahl seit 15 Jahren drastisch reduziert. Wie Sie vielleicht erraten haben, hat das tödliche Virus den Planeten fast unbewohnbar gemacht. Allerdings musst du mit allen notwendigen Mitteln überleben.
---
Minecraft ist mit Abstand das meistverkaufte Videospiel aller Zeiten, so dass es keine Überraschung ist, dass seine kommende Folge MINECRAFT: DUNGEONS einer der am meisten erwarteten Titel des Jahres 2020 ist. Wie bei allen Spielen, die das Minecraft-Label tragen, wurde Minecraft: Dungeons erschaffen, um kooperatives Spiel, starke Anpassung und unvergleichlichen Raum für deinen eigenen Ausdruck zu ermöglichen. Das Spiel soll im zweiten Quartal nächsten Jahres für die Xbox One, PS4, Nintendo Switch und PC veröffentlicht werden.
---
Square Enix und People Can Fly haben ihre Kräfte zusammengeführt, um einen potenziell bemerkenswerten Drop-in-Drop-out-Koop-Shooter namens Outriders zu entwickeln. Diese ehrgeizige Liebesarbeit wurde von Square Enix über seinen offiziellen Twitter-Account für einige Zeit gehänselt; eine Werbetaktik, die perfekt als Outriders funktionierte, wird zum Start voraussichtlich durchweg herzlich begrüßt. Die Spieler werden das ""dunkle und verzweifelte"" Sci-Fi-Universum der Vorreiter auf ihrem PC, der Xbox One und der PS4 erkunden können, wenn es im nächsten Jahr erscheint.
---
Die Entwickler von Blood Bowl 3, die Cyanide Studios, scheinen mit diesem Titel den Höhepunkt erreicht zu haben, indem sie zwei Themen kombinieren: American Football und Warhammer. Dadurch kann das Spiel sowohl Fans der Warhammer-Franchise als auch Fans des American Football direkt ansprechen, die beide eine Vielzahl von Fans haben. Im Spiel bestehen die Teams aus Zwergen, Elfen, Trollen, Menschen und anderen Rassen, die aus der Warhammer Fantasy-Einstellung stammen, und das Gameplay ist genauso aggressiv und lustig, wie man es sich vorstellen kann.
---
Halo Infinite ist die neueste Ausgabe des weit verbreiteten Halo-Franchise und damit eines der am meisten erwarteten kommenden Spiele. Halo Infinite setzt die Geschichte des Master Chief als drittes Kapitel der Reclaimer Saga fort, nach Halo 5: Guardians. Es wird sicherlich mit all den Elementen kommen, die die spezielle Fanbasis der Serie auf einer brandneuen Slipspace Engine magnetisiert und erhalten haben. Halo Infinite soll im Winter 2020 erscheinen.
---
AUCH AUF KEYFORSTEAM NEWS
---
| | |
| --- | --- |
| | Der Mac ist vielleicht nicht die am meisten unterstützte Plattform, wenn es um Spiele geht, aber es bedeutet nicht, dass es keine guten Spiele auf ihm gibt. Hier sind unsere Top-Picks. |
---