Desperados 3 Offizieller Starttermin enthüllt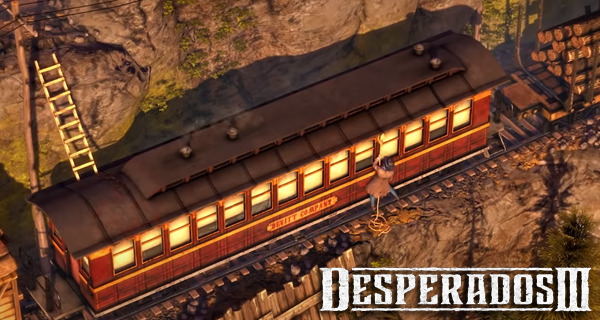 Desperados 3 Offizielles Startdatum
---
Desperados 3, das Vorgängermodell von 2001, Desperados: Wanted Dead or Alive, hat sein offizielles Erscheinungsdatum bekannt gegeben.
---
---
Desperados 3 wird von Mimimi Games, der Firma hinter entwickelt Shadow Tactics: Blades of the Shogun, entwickelt, nachdem sie die Franchise von Spellbound übernommen hatte.
Ganz ähnlich wie Shadow Tactics: Blades of the Shogun ist auch Desperados 3 ein Hardcore-Tarnkappenspiel, das im Wilden Westen spielt und eine Story-Kampagne beinhaltet.
Auf der offiziellen Website des Spiels sind einige der wichtigsten Merkmale des Spiels aufgeführt:
Spielen Sie fünf einzigartige Charaktere, von denen jeder eine ganz besondere Reihe von Fähigkeiten besitzt
Erleben Sie wahre Wahlfreiheit mit unzähligen verschiedenen Möglichkeiten, jedes Hindernis zu überwinden
Große Feindesgruppen durch sorgfältige Planung und Ausführung besiegen
Werden Sie Zeuge der Herrlichkeit klassischer Wildwest-Szenarien wie Grenzstädte, geheimnisvolle Sümpfe, ausgedehnte moderne Städte und vieles mehr
Wählen Sie zwischen nicht-tödlichen und tödlichen Angriffen, Schleich- und Feuerwaffen
Passen Sie das Spiel mit verschiedenen Schwierigkeitseinstellungen und speziellen Wiederspielherausforderungen an Ihren Spielstil an
Der Showdown-Modus ermöglicht es Ihnen, das Spiel jederzeit zu unterbrechen und auf Hinterhalte oder Überraschungsangriffe zu reagieren
In der Rolle des John Cooper rekrutieren die Spieler einen Außenseiter aus verschiedenen Charakteren, darunter eine entlaufene Braut, einen Trapper, einen Killer und eine mysteriöse Dame. Sie müssen gut planen und fehlerfrei ausführen, wenn Sie die Gefahren, die der Wilde Westen auf Sie wirft, überleben wollen.
Die Spieler werden Grenzstädte, weitläufige moderne Städte, Sümpfe, Flussufer und viele weitere Orte durchqueren, wenn sie versuchen, Legenden des Wilden Westens zu werden.
Desperados 3 wird am 16. Juni 2020 für Xbox One, PlayStation 4 und PC erscheinen.