Der Saison-Pass für The Division 2 und der detaillierte Year-1-Pass

---
Ubisoft hat nach dem Start von The Division 2 ihre Pläne für den Inhalt des ersten Jahres bekannt gegeben. Sie haben auch bekannt gegeben, was der Season Pass des Spiels beinhaltet. Wie beide miteinander in Beziehung stehen, ist ziemlich chaotisch. Schauen wir uns jetzt alles an, was Ubisoft bisher enthüllt hat.
---
---
Nach dem Start erhält das Spiel 3 wichtige inhaltliche Updates in Form von Episoden. Der erste nennt sich D.C. Outskirts: Expeditions und wird Spieler an neuen Standorten nach Elite-Mitgliedern der Outcasts und der Black Tusks suchen lassen. Die nächste Episode heißt Pentagon: The Last Castle und führt den Kampf zum ikonischen Hauptquartier des Verteidigungsministeriums. Es wurden keine Details über die letzte Episode für das erste Jahr bekannt gegeben, mit der Ausnahme, dass sie "den Weg für aufregendere Inhalte ebnen wird".
Du kannst den Year One Content Trailer unten ansehen:
Was den Season Pass oder den Year-1-Pass, wie er von Ubisoft genannt wird, anbelangt, so sieht es aus, als würden die meisten seiner früheren Zugriffe auf die meisten der oben genannten Inhalte des Year-1 zugreifen. Diejenigen, die den Pass kaufen, können jede Episode 7 Tage früher als alle anderen erleben. Darüber hinaus werden im Laufe des Jahres 3 neue Spezialisierungen hinzugefügt, die alle sofort für Inhaber der Pass-Klasse 1 freigeschaltet werden. Diejenigen, die den Pass nicht kaufen, müssen sie im Spiel freischalten.
Bei den exklusiven Vorteilen für das Jahr 1 gibt es eine Reihe von Missionen mit dem Namen Classified Assignments, die den Spielern mehr Story-Inhalte bieten sollen, die sich auf die Ereignisse beziehen, die zur Ankunft der Division in Washington D.C geführt haben. Bei Abschluss jeder dieser Missionen erhält man eine exklusive Trophäe für Rucksäcke.
Inhaber des Passes der Klasse 1 haben außerdem Zugang zu einer zusätzlichen Kopfprämie pro Woche und einem zusätzlichen Projekt pro Tag. Kopfgeld ist eine spezielle Aufgabe, die darauf abzielt, bestimmte Ziele zu eliminieren, während Projekte verschiedene Aufgaben sind, die Spieler für zusätzliche Belohnungen ausführen können. Ihre zusätzlichen Missionen enden am 1. März 2020. Zu diesem Zeitpunkt gehen wir davon aus, dass du den Jahr-2-Pass kaufen musst, um diesen Vorteil weiterhin zu erhalten.
Der Year 1 Pass enthält ein paar exklusive Kosmetikartikel:
das Agent Ward Outfit und das Scout Emote.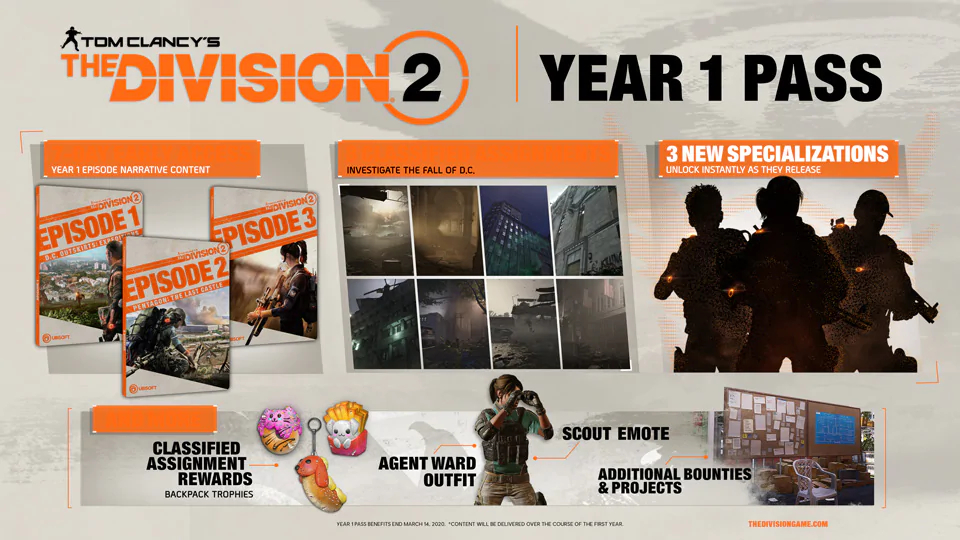 Der Year-1-Pass wird mit den Gold- und Ultimate-Editionen des Spiels gebündelt und ist nach dem Start auch separat erhältlich. Wenn du mehr über den Year-1-Pass und die geplanten Inhalte für das 1. Jahr erfahren möchtest, kannst du die Details und FAQs hier nachlesen.
---
The Division 2 startet am 15. März für den PC, die Xbox One und PS4. Eine offene Betaversion startet morgen auf allen Plattformen. Versuche also, das Spiel auszuprobieren, damit du entscheiden kannst, ob du etwas spielen möchtest, ohne vorher einen Cent ausgeben zu müssen.
---