Das Bedürfnis nach Furcht | Wir lieben Horrorspiele
Es ist Halloween, und wenn du dieses Wochenende das Bedürfnis hast, dich zu fürchten, und Horrorspiele genauso liebst wie wir, haben wir hier eine tolle Liste mit Spielen und Angeboten.
Von  
  Daniel  |  

  gamepartner78

Die wichtigsten Fakten
Halloween findet am 31. Oktober statt.

Allkeyshop ist der beste Ort, um Horror-Videospiele günstig zu kaufen.

Auf der Allkeyshop-Geschenkeseite finden Sie auch Horrorspiele-Merchandise.
WARUM EIN HORROR-VIDEOSPIEL KAUFEN?
---
Wir lieben es, uns zu erschrecken, sei es beim Erkunden dunkler Gänge in viktorianischen Herrenhäusern mit einer Laterne oder beim Versuch, übernatürliche Aktivitäten an Spukorten einzufangen – wir lieben den Spuk.
Horror-Videospiele können allein oder mit Freunden gespielt werden, aber am besten sind sie immer im Dunkeln, wenn wir völlig in die Welt und die Umgebung des Spiels eintauchen.
Und an Halloween gibt es keinen besseren Zeitpunkt, um in einen Raumanzug zu springen und verdächtig zu sein, sich vor einem Xenomorph zu verstecken oder die Hölle selbst zu besuchen.
Hier findest du das beste und günstigste Horror- und Gaming-Merchandise:
---
DIE BESTEN HORRORSPIELE GÜNSTIG KAUFEN
---
Dead by Daylight
---
Resident Evil Village
---
Scorn
---
A Plague Tale: Requiem
---
Phasmophobia
---
The Dark Pictures Anthology: The Devil in Me
---
Ghostbusters: Spirits Unleashed
---
KEYFORSTEAM IST DER ORT, AN DEM SIE SPIELE GÜNSTIG KAUFEN KÖNNEN
---
Gratis-Wochenenden und Schlussverkäufe sind nur vorübergehend, aber Keyforsteam hat das ganze Jahr über die günstigsten Spiele. Wenn Sie also die besten Spiele zu niedrigen Preisen suchen, sollten Sie sich immer an Keyforsteam wenden.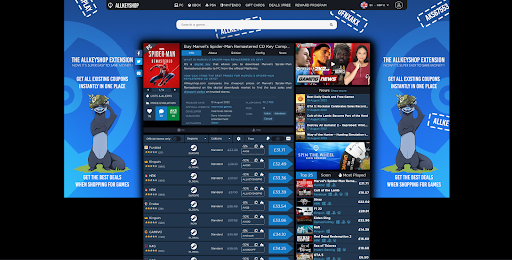 Keyforsteam vergleicht jedes Spiel auf jeder digitalen Plattform, so dass Sie wissen, wo Sie die besten Spiele günstig kaufen können.
Keyforsteam ist hier, um Ihnen Geld zu sparen und Ihnen zu ermöglichen, Videospiele günstiger zu kaufen.
Nehmen Sie an der Halloween-Verlosung von Keyforsteam teil und haben Sie die Chance, eine PS5 zu gewinnen:
Keyforsteam Halloween-Gewinnspiel
---
SPIELESCHLÜSSEL GÜNSTIG KAUFEN BEI KEYFORSTEAM
---
KeyForSteam ist der beste Ort, um die besten Spiele zu den niedrigsten Preisen zu kaufen, und wir haben sogar eine Browsererweiterung, die Ihnen hilft, die besten Rabattcodes, Gutscheine und Preise sofort zu finden.
Lade dir die KeyForSteam-Browsererweiterung kostenlos herunter – SPAREN SIE GELD
Für die neuesten Nachrichten über Videospiele, Trailer und die besten Angebote solltest du uns ein Lesezeichen setzen.
WEITERE RELEVANTE ARTIKEL
---