Crystal Dynamics arbeitet an neuem Tomb Raider-Spiel
Das neue Tomb Raider-Spiel befindet sich in einem frühen Stadium der Entwicklung und wird laut Crystal Dynamics die Unreal Engine 5 verwenden.
Von   
  Merc  | 

  gamepartner78
Crystal Dynamics nahm am Livestream "State of Unreal 2022" von Epic Games teil, mit dem die Veröffentlichung der Unreal Engine 5 gefeiert wurde. Der Spieleentwickler wurde von Dallas Dickinson, Franchise General Manager für Tomb Raider, vertreten, der bestätigte, dass ein neues Tomb Raider-Spiel "gerade mit der Entwicklung begonnen hat."
Gegen Ende des Livestreams sagte Dickinson zunächst, dass Crystal Dynamics begeistert sei, Teil der Veröffentlichung von UE5 zu sein. "Diese neue Engine ermöglicht ein Storytelling auf höchstem Niveau in Gameplay-Erlebnissen. Deshalb freuen wir uns, heute bekannt geben zu können, dass wir gerade mit der Entwicklung unseres nächsten 'Tomb Raider'-Spiels auf Basis der Unreal Engine 5 begonnen haben", fügt er hinzu.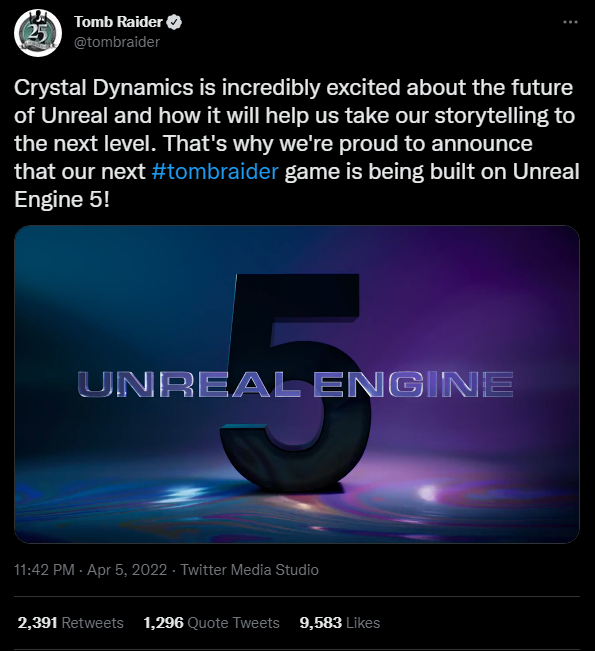 "Unser Ziel ist es, die Grenzen der Wiedergabetreue zu überschreiten und ein hochwertiges, filmisches Action-Adventure-Erlebnis zu liefern, das die Fans von Crystal Dynamics und der 'Tomb Raider'-Franchise verdient haben. Wir können es kaum erwarten, diese Reise gemeinsam anzutreten. Vielen Dank und nochmals herzlichen Glückwunsch an das Team von Epic Games."
Das letzte "Tomb Raider"-Spiel war Shadow of the Tomb Raider, das von Eidos-Montréal entwickelt und von Square Enix veröffentlicht wurde und 2018 erschienen ist. Es wurde für mehrere Preise nominiert, darunter Bestes Action-/Abenteuerspiel (Game Critics Awards) und Bestes PC-, Xbox One-Spiel (Gamescom 2018). Es hat den Fan Favorite Female Voice Actor (Camilla Luddington) bei den Gamers' Choice Awards 2018 gewonnen.
Den niedrigsten Preis für Shadow of the Tomb Raider findest du hier:
---
WEITERE RELEVANTE ARTIKEL
---