Call of Duty: Warzone jetzt auch für Mobilgeräte
Call of Duty: Warzone wird für Mobiltelefone erscheinen. Activision hat das Spiel in einem Beitrag auf seiner Website bestätigt.
Von 
  Daniel  | 

  gamepartner78
WANN ERSCHEINT CALL OF DUTY: WARZONE MOBILE?
---
Bei der Ankündigung von Call of Duty: Warzone mobile erklärt Activision in einem Beitrag auf seiner Website, dass sie die "flüssige und groß angelegte Action von Call of Duty: Warzone den Spielern auch unterwegs bieten wollen."
Der Beitrag kündigt neue Karrieremöglichkeiten für diejenigen an, die in den Bereichen Technik, Design und Marketing arbeiten möchten, sowie für qualifizierte Personen mit einer Leidenschaft für die Spieleentwicklung.
Zu den Entwickler Teams, die voraussichtlich an Call of Duty: Warzone Mobile arbeiten werden, gehören Digital Legends, Beenox, Solid State Studios und Demonware.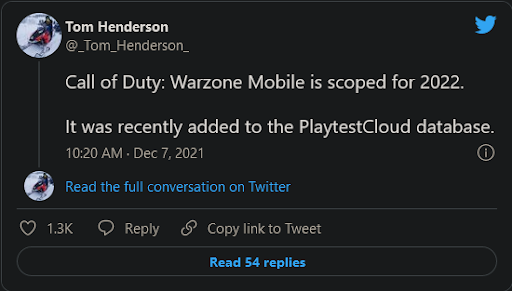 Activision hat noch kein offizielles Veröffentlichungsdatum für Call of Duty: Warzone genannt, aber Leaks im Dezember deuteten auf ein mögliches Veröffentlichungsdatum im Jahr 2022 hin.
---
CALL OF DUTY: VANGUARD BEI KEYFORSTEAM KAUFEN
---
Call of Duty 2023 : Est-il annulé ?
Für alle aktuellen Videospiel-Nachrichten, Trailer und besten Angebote, stelle sicher, dass du uns ein Lesezeichen setzt.
Du kannst all die besten und günstigsten Online-Angebote für preiswerte Call of Duty: Vanguard CD-Keys, Spiel-Codes, Geschenkkarten und Antivirus-Software von den verifizierten CD-Key-Verkäufern auf unseren Shop-Seiten finden.
WEITERE RELEVANTE ARTIKEL
---