Call of Duty: Modern Warfare Ronin basiert auf einem Veteranen aus der realen Welt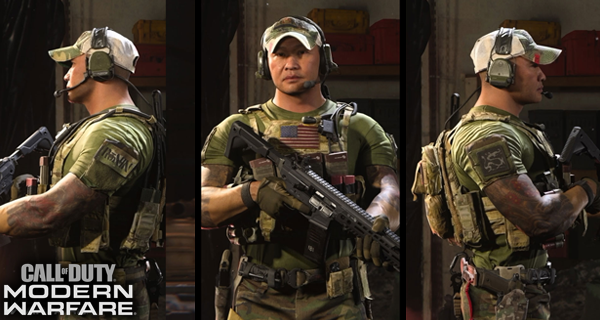 Call of Duty: Modern Warfare stellte mit seinem Season 3-Update Alex und Ronin als die beiden neuesten Operatoren vor, wobei bestätigt wurde, dass Ronin auf einem Veteranen aus der realen Welt basiert. Call of Duty: Modern Warfare ist ein Spiel voller Realismus, und mit Ronin hat es nun seinen ersten Charakter, der auf einer realen Person basiert. Er basiert auf einem Veteranen namens Tu Lam.
---
---
Tu Lam entkam 1979 dem kommunistischen Vietnam, als es ihm gelang, auf einem Fischerboot aus dem Land zu fliehen. Schließlich gelang es ihm, in die USA zu gelangen, wo er sich in der US-Armee meldete und später in die Spezialeinheiten eintrat. Während seiner Karriere diente er 23 Jahre lang, davon 18 Jahre in den Special Forces, wo er 27 Länder besuchte, wobei die meisten Besuche während Konflikten stattfanden. Er schied 2016 mit dem Titel eines Master Sergeant aus dem Dienst aus. Lam gründete daraufhin Ronin Tactics, ein Unternehmen, das Ausrüstung entwickelt und Schulungen für Zivilisten und Strafverfolgungspersonal anbietet. Das Logo der Kompanie ist auch im Spiel auf dem Schulterabzeichen der Ronin zu sehen.
Im Gespräch mit Task & Purpose sagte Dave Stohl, Co-Studioleiter bei Infinity Ward, über Lam: "Viele Dinge sind für das Spiel in gewisser Weise übertrieben, aber das ist es, was so aufregend ist, wenn wir Typen wie Tu treffen, denn für mich war ich deshalb so aufgeregt, weil es echt ist – er ist echt.
Mark Grigsby, Animationsdirektor bei Infinity Ward, erklärte, dass die Arbeit mit Veteranen dem Spiel ein kleines Extra verleiht, indem er sagte: "Es gibt eine bestimmte Art und Weise, wie man erkennen kann, dass diese Person diese Waffe in der Hand hält und dass er sie in verschiedenen Situationen in der Hand hatte, und das ist für ihn sehr natürlich".
Was die Teilnahme am Spiel anbelangt, so verriet Lam, dass es moralisch förderlich sei: "Man kann nicht in den Postaustausch gehen, ohne Call of Duty-Poster zu sehen", sagte Lam zu Task & Purpose. "Das ist einfach wirklich Teil der Kultur im Militär. Bei den Special Forces gingen wir auf Missionen, und dann kamen die Jungs zurück, um sich einzuloggen und zu spielen. Das ist eine Sache der Moral für unsere Veteranen in Übersee.
Spieler können das Ronin-Operator-Paket für 2400 Call of Duty–Punkte erhalten, wobei Ronin im Mehrspieler- und Kriegsgebiet erhältlich ist.
AUCH AUF KEYFORSTEAM NEWS
---
| | |
| --- | --- |
| | Call of Duty: Modern Warfare: Die Datenschürfer von Modern Warfare haben kürzlich einige interessante Details zur 3. Die Datenschürfer haben so gut wie bestätigt, dass in der 3. Saison eine neue Karte mit dem Namen Village erscheinen wird. |
---