Call of Duty Black Ops 4 erhält neuen Over the Top Zombies Trailer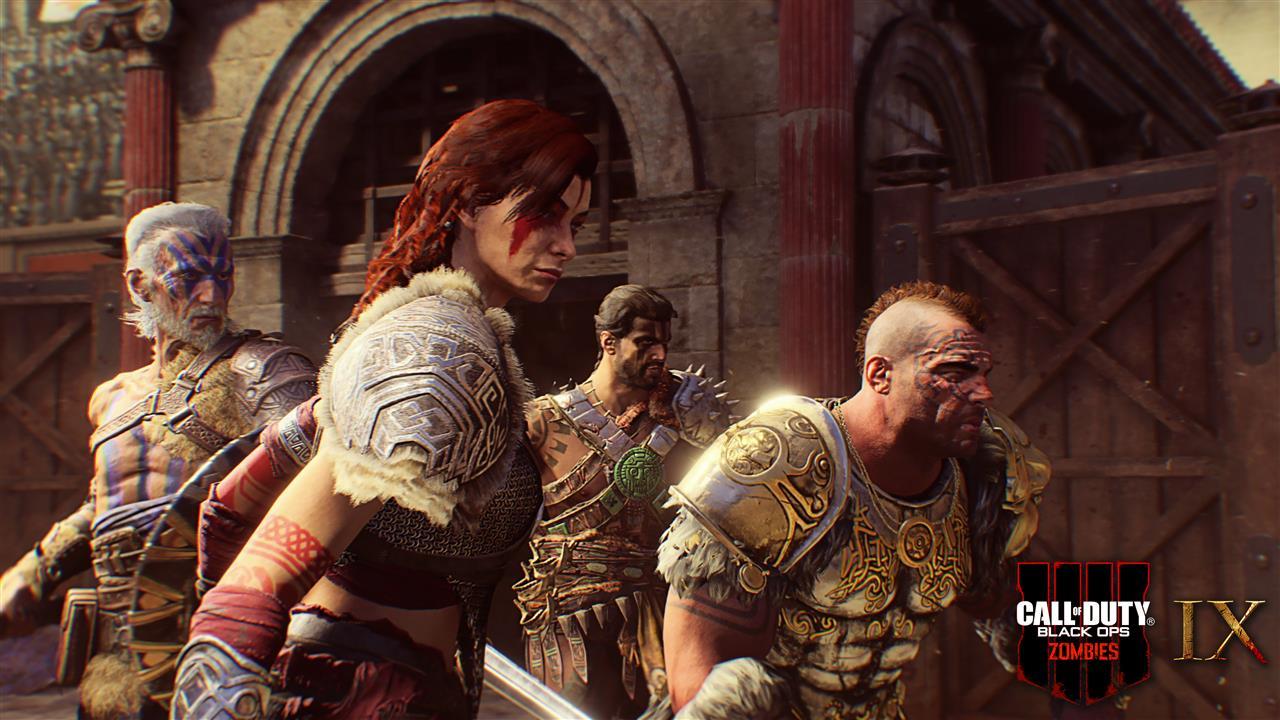 Viele Fans waren enttäuscht, als sie erfuhren, dass Call of Duty Black Ops 4 keine komplette Singleplayer-Kampagne bieten wird, ein großer Schritt weg von der Grundformel, die bisher jedem Teil der Serie zu Grunde lag. Aber es scheint, dass Treyarch die Fans mit einem erweiterten Zombies-Spielmodus trösten wird. Ein neuer Trailer wurde für diesen Modus veröffentlicht, der den Spielern einen Blick darauf gibt, wie verrückte die Dinge werden.
---
Der Trailer beginnt mit Scarlett, einer der vier Protagonisten für den Spielmodus, und berichtet über ihre entfremdete Beziehung zu ihrem Vater. Ihr Vater scheint im Zentrum von allem Seltsamen zu stehen, was von wilden, geistlosen Untoten über Zeitreisen bis hin zu schwarzer Magie reicht. Bruno, Diego und Shaw schließen sich Scarlett an, um die Besetzung für den 4-Spieler-Koop-Modus zu vervollständigen. Die drei anderen Charaktere scheinen Scarletts Vater Dank schuldig zu sein und haben sich so ihrer Suche angeschlossen.
Es scheint, dass der Modus die Spieler zu mehreren Orten bringt, von denen jeder wahrscheinlich fremdartiger ist als der Ort zuvor. Der Trailer startete auf der Titanic, wo eine seltsame Magie die Passagiere in Zombies verwandelt. Ein alter Stab, der in den Boden gerammt wird, bringt die Gruppe dann in eine Arena für Gladiatoren im antiken Rom. Dort bekämpfen sie einen Zombie-Tiger und andere tödlicher Kreaturen.
Der Trailer zeigt auch schon eine Menge über den Nahkampf des Modus. Es gibt eine mit Widerhaken versehene Peitsche, die sich in ein Schwert zurückzieht, ein massiver Hammer mit magischen Schnitzereien und ein indisches Chakram, wenn auch eine kleinere Version der Wurfwaffe.
Call of Duty Black Ops 4 erscheint am 12. Oktober. Sie können das Spiel aber schon jetzt für Konsolen vorbestellen, um sich einen Platz in der August-Multiplayer–Beta zu sichern. Die PC-Beta wird allen zugänglich sein, die ein kostenloses Blizzard-Konto haben, Vorbesteller erhalten einen kompletten, zusätzlichen Spieltag. Sie können die Beta-Details in dem Post unten sehen. Für Call of Duty Black Ops 4 wird es 2 Betas geben, die Erste im August und die Zweite im September. Hier ist alles, was Sie wissen müssen.