Call of Duty Black Ops 3 Gamesplanet Gewinnspiel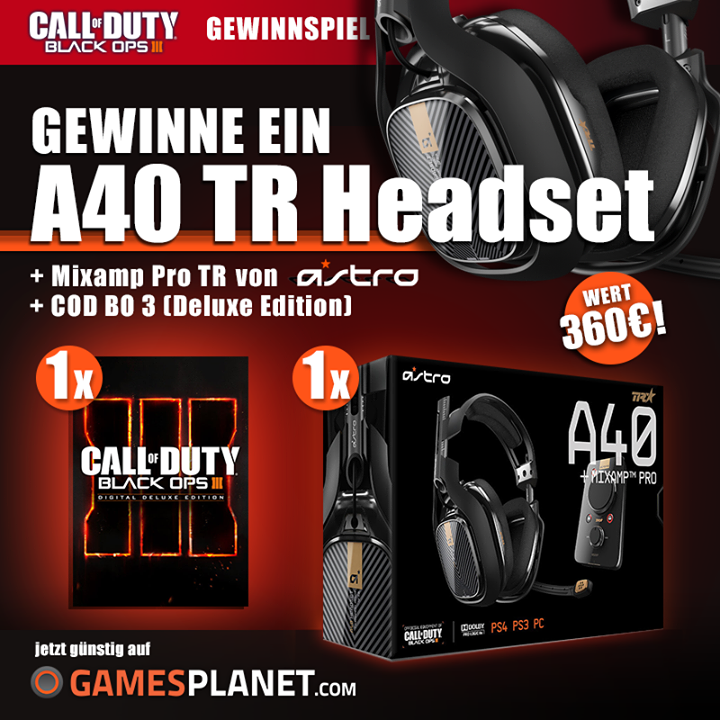 Morgen ist Release des neuen Call of Duty Black Ops 3.
---
Gamesplanet macht Euch einsatzbereit! Und verlost:
1x COD Black Ops 3 als Digital Deluxe Edition

1x das A40 TR Headset von Astro
Gesamtwert ca. 360€!
Perfekt für eure Mehrspieler-Battles.
Beantwortet in der Facebook-App eine simple Frage, um an der Verlosung teilzunehmen.
[sws_button class="" size="sws_btn_large" align="sws_btn_align_center" href="https://www.facebook.com/GamesplanetDeutschland/?app_data=%7B%7D&sk=app_190076381016644″ target="_blank" label="ZUM GEWINNSPIEL" template="sws_btn_skyblue" textcolor="#000000″ bgcolor="" bgcolorhover="" glow="sws_btn_glow_blue"]
Teilnahmeschluss: 9.11.2015, 23:30 Uhr und Mindestalter 18 Jahre.
Verlosung unter allen teilnehmenden Facebook-Fans von Gamesplanet Deutschland.
"Liked"

und teilt das Gewinnspiel und markiert gern Freunde in den Kommentaren, mit denen ihr

CODBO3

zocken möchtet.
---
Call of Duty Black Ops 3
findet Ihr auch in unserem
Preisvergleich
: