Borderlands 3 Steam-Start beginnt in nur zwei Wochen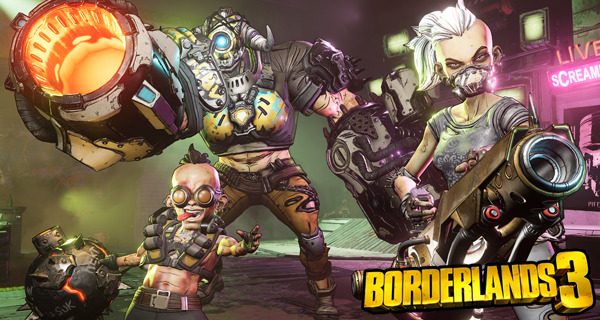 Diejenigen, die auf den Start von Borderlands 3 Steam warten, müssen nur noch ein paar Wochen aushalten, bis es los geht. Das Spiel wurde erstmals am 13. September 2019 im Epic Games Store veröffentlicht, und sechs Monate später soll es auch auf Steam erscheinen.
---
---
Es ist unbestreitbar, dass sich das Spiel im Epic Games Store recht gut verkauft hat, denn bis Ende 2019 wurden mehr als 8 Millionen Exemplare verkauft. Die Entwickler hoffen, mit dem Start des Spiels auf Steam mehr Spieler zu erreichen. Gearbox kündigte auch an, dass das Crossplay zwischen der Steam- und der Epic-Version verfügbar sein wird, wenn das Spiel auf den Markt kommt. Außerdem planen sie bald plattformübergreifende Funktionen wie das Senden von Waffen über die Plattformen.
Zusammen mit der Ankündigung des Starts von Steam kommt auch die zweite Enthüllung der Erweiterung Borderlands 3, die "Guns, Love, and Tentacles" genannt wird: Die Hochzeit von Wainwright und Hammerlock. Sie sind zur Hochzeit von Sir Alistair Hammerlock und Wainwright Jakobs eingeladen. Einige Hochzeits-Crasher tauchen auf und machen Ärger, und es liegt an Ihnen, zu helfen. Gaige wird in dieser Erweiterung zusammen mit ihrem Roboter-Begleiter Deathtrap zurückkehren.
Wenn Sie sich dafür interessieren, was die Borderlands 3 Spring Content Roadmap beinhaltet, können Sie sie unten ansehen: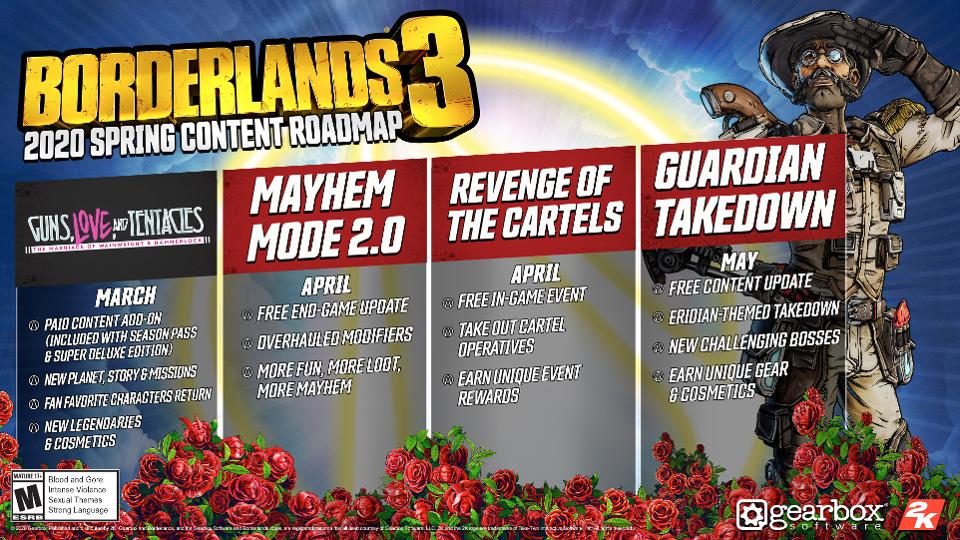 Borderlands 3 startet am 13. März 2020 auf Steam, das Spiel ist bereits auf PlayStation 4 und Xbox One erhältlich. Die Gewehre, die Liebe und die Tentakel: Die Erweiterung The Marriage of Wainwright and Hammerlock wird etwas später, am 26. März 2020, veröffentlicht.