Borderlands 3 Gold Weapon Skins kostenlos erhältlich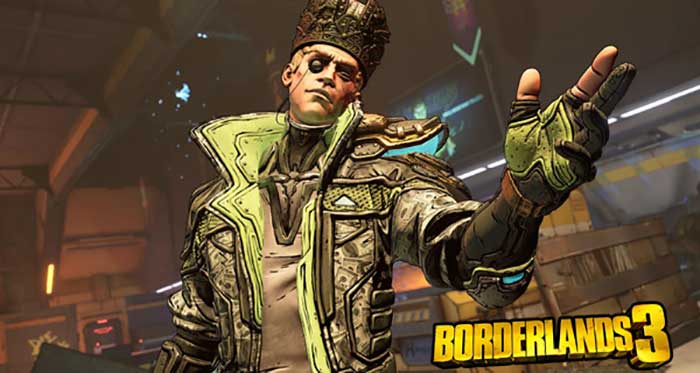 Mit dem Kauf von Borderlands 3 on Steam vor Ende März erhalten Sie ein kostenlos Gold Weapon Skins Pack. Sie können auf diese Häute und Schmuckstücke zugreifen und sie dann auf alle Waffen im Spiel anwenden. Außerdem müssen Sie das Spiel installiert haben, um den DLC einzulösen.
---
---
Borderlands 3 ist derzeit bei Steam mit einem Rabatt von 50% erhältlich, nur für den Fall, dass Sie einen weiteren Anreiz für den Kauf benötigen. Beachten Sie jedoch, dass der Rabatt nur für eine begrenzte Zeit angeboten wird; ähnlich wie das Goldwaffen-Skin-Paket.
Bis vor kurzem wurde Borderlands 3 ausschließlich im Epic Games Store angeboten, wo die große Mehrheit der Spieler bereits Exemplare gekauft hat. Wenn Sie zu denjenigen gehören, die zum ersten Mal über Steam einkaufen, können Sie immer noch mit Ihren Freunden spielen, die über den Epic Games Store gekauft haben, da das Cross-Play in beiden PC-Versionen unterstützt wird.
Attention Steam players: the Gold Weapon Skins Pack for #Borderlands3 is free now through April 1 — make sure to redeem it before then! Get it here: https://t.co/9mnBdvqCca pic.twitter.com/xZD1d51Iu0

— Borderlands 3 (@Borderlands) March 16, 2020
Für diejenigen, die es noch nicht wissen: Borderlands 3 ist ein Beute-und-Schieß-Spiel, das von Gearbox Software entwickelt wurde. In dem Spiel stürmen Sie als einer von vier brandneuen Tresorraum-Jägern durch neue Welten und schicken Ihre Feinde in die Schlacht. Die genannten Tresorraum-Jäger verfügen über tiefe Fertigkeitsbäume, Fähigkeiten und Anpassungsmöglichkeiten, so dass Sie sie einzigartig für sich machen können. Außerdem lassen die Feinde, die Sie töten, Beute fallen, was eine effektive Möglichkeit ist, verbesserte Waffen zu erwerben, um Ihr Arsenal weiter zu stärken.
Wie bereits erwähnt, bietet das Spiel einen kooperativen Mehrspieler-Modus, aber Sie können auch allein spielen, wenn Sie dies wünschen. Gearbox Software bittet Sie dringend, die Vorteile von Werbeaktionen zu nutzen, solange das Angebot noch steht. Danach können Sie beweisen, dass Sie den Mut haben, Ihr Zuhause vor den skrupellosesten Sektenführern der Galaxis zu retten.
Borderlands 3 ist für PC, PlayStation 4, Xbox One und Stadia erhältlich.
AUCH AUF KEYFORSTEAM-NACHRICHTEN
---
| | |
| --- | --- |
| | Borderlands 3, das zuerst für den Epic Games Store gestartet wurde, ist nun endlich auf Steam! Das Tolle daran ist, dass die PC-Spieler nicht geteilt werden, da Crossplay zwischen den beiden verfügbar ist! |
---