Assassin's Creed Origins kostenlose DLC- und Season-Pass-Details enthüllt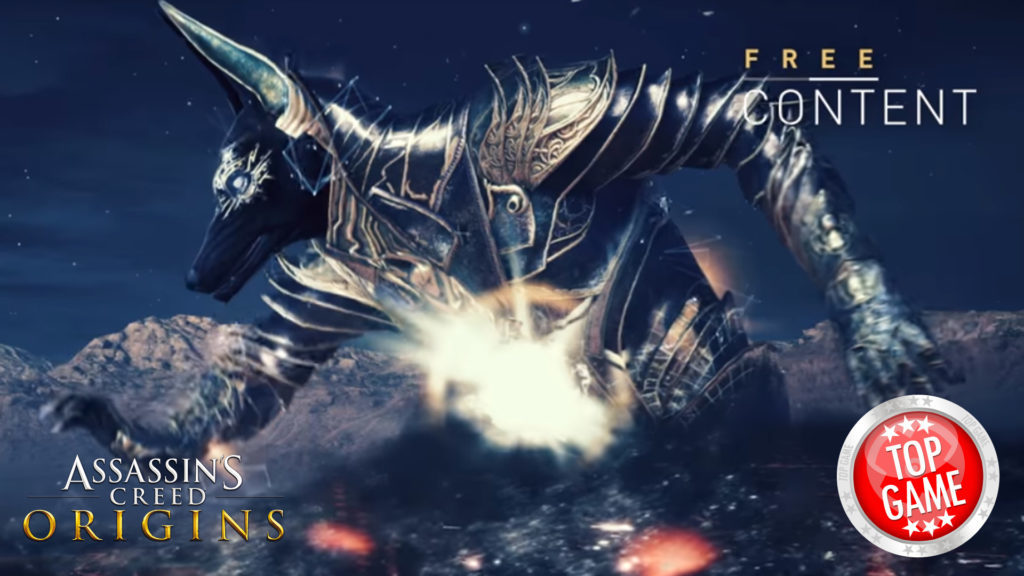 ---
Tatsächlich ist das alte Ägypten so groß, wie du es dir gar nicht vorstellen kannst! Ubisoft hat Details zu den kommenden Assassin's Creed Origins DLC und Season Pass veröffentlicht. Diese zusätzlichen Inhalte werden so viel mehr neue Abenteuer bringen.
---
---
Hier ist alles, was wir bisher über sie wissen:
---
Freier Inhalt
Diese Assassin's Creed Origins DLCs werden direkt nach dem Start des Spiels eingeführt und bringen Aktivitäten, die du kostenlos genießen kannst:
The Trial of the Gods– The Trial of the Gods, der 15 Tage nach dem Start des Spiels startet, lässt dich in Bosskämpfen gegen ägyptische Götter antreten. Diese werden während spezieller Zeitereignisse aufgehalten und bringen dir Belohnungen, wenn du siegreich bist.
The Nomad's Bazaar – Dieser wird bei der Einführung verfügbar sein. The Nomad's Bazaar lässt dich einen wandernden Händler aufspüren, der dirtäglich Aufgaben gibt. Du wirst dann mit exotischen Mystery-Belohnungen belohnt.
Photo Mode  – Der Photo Modus ist auch beim Start verfügbar und ermöglicht es dir, die Schönheit der Umgebung des Spiels zu erfassen und die Fotos anderer Spieler zu betrachten und zu schätzen.
Discovery Tour – Der Discovery Tour, welcher Anfang 2018 verfügbar ist, gibt dir die Freiheit, zu erforschen und zu entdecken, was die Welt der Assassin's Creed Origins zu bieten hat, ohne sich Feinden stellen zu müssen.
Horde-Mode – Der Horde-Modus, der Anfang 2018 verfügbar ist, wird dich in die Lage versetzen, endlosen Wellen von Feinden innerhalb einer Gladiator-Arena mit der Klinge und dem Bogen zu begegnen.
---
Assassin's Creed Origins Season Pass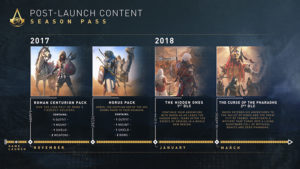 Der Assassin's Creed Origins Season Pass wird auch ein paar DLCs mitbringen, die im nächsten Jahr erscheinen, sowie Content Packs, die zum Start zur Verfügung stehen werden. Der Season Pass ist in der Gold Edition des Spiels enthalten. Du kannst ihn aber auch separat erwerben.
---
Hier ist was im Season Pass enthalten ist:
---
Roman Centurion and Horus Packs – Die Inhaber des Season Pass erhalten exklusive Gegenstände durch den Roman Centurion und Horus Packs. Die Items beinhalten: neues Outfit, Waffen, Schild und Reittier.
500 Helix Credits + Exklusives Calamity Blade (Rare Weapon) – verfügbar zum Start des Spiels
DLC 1: The Hidden Ones – Ab Januar 2018 ist der erste DLC eine story-orientierte Erweiterung, die Jahre nach Origins und in einer neuen vom Römischen Reich besetzten Region spielt. Bayek wird sich mit den Mördern der Römer als Feinde zusammentun. Durch diese Erweiterung wird auch ein neues Level-Cap eingeführt.
DLC 2: Curse of the Pharaohs – Diese Erweiterung wird im März 2018 verfügbar sein. Dies ist eine geschichtliche Erweiterung, die sich auf die ägyptische Mythologie konzentriert. Die Spieler kämpfen gegen untote ägyptische Pharaonen und berühmte ägyptische Monster. Das Level-Cap wird durch diese Erweiterung wieder erhöht. Bayek wird auch eine neue Fähigkeit bekommen.
---
Du kannst einen Blick auf all diese großartigen zusätzlichen Inhalte im folgenden Video werfen:
---
Assassin's Creed Origins wird ab dem 27. Oktober 2017 auf dem PC, der PS4 und Xbox One verfügbar sein.
---