5 der besten bevorstehenden FPS-Coop-Spiele und Preisvergleiche
August 2020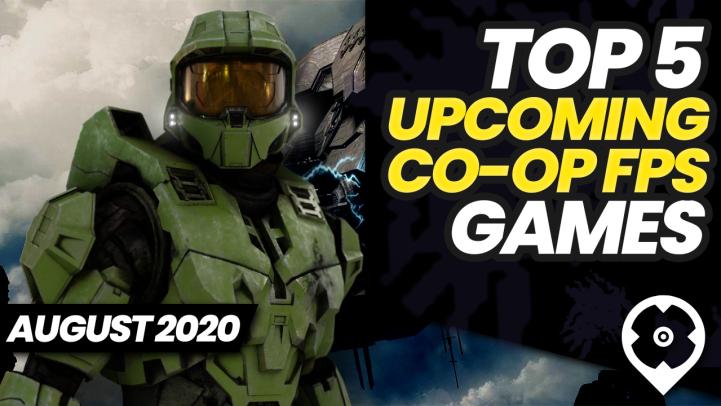 ---
Welches sind die besten 5 bevorstehenden FPS-Coop-Spiele?
---
 Serious Sam 4 explodiert in die nächste Generation und bietet gefährliche Waffen, ernste Kämpfe und furchterregende Feinde, während es die Franchise für neue und alte Fans der Serie wiederbelebt. Begegnung gegen alte und neue Feinde von Mentals Horde, darunter der kopflose Kamikaze, Kleer, Processed, Belcher und der Zelot. Setzen Sie verheerende und explosive Waffen ein, spielen Sie die epische Kampagne mit Unterstützung von bis zu vier Spielern durch und zerschlagen Sie endlose Wellen von Feinden auf Schlachtfeldern, auf denen Tausende von Feinden gleichzeitig auftreten.
Serious Sam 4 Systemvoraussetzungen
---
 Schlüpfen Sie erneut in die Rolle des Master Chief und retten Sie die Menschheit in einer epischen Halo-Kampagne, die es Ihnen ermöglicht, den Halo-Ring selbst zu erforschen. Treten Sie gegen alte und neue Feinde an, führen Sie mächtige Waffen und setzen Sie neue Werkzeuge in einer Offene-Welt-Kampagne ein, oder erstellen Sie im Schmiede-Modus Ihren eigenen epischen Halo-Inhalt. Der Multiplayer-Modus Rot gegen Blau kehrt in intensiver PvP-Action in mehreren Modi zurück, darunter Slayer, Capture the Flag und King of the Hill.
Halo Infinite Systemvoraussetzungen
---
 Sprengen Sie sich in diesem 1-4-Spieler-Ego-Personen-Koop-Shooter Ihren Weg durch sich ständig weiterentwickelnde Feinde. Spielen Sie die nicht-lineare Kampagne allein oder mit Freunden durch, schwingen Sie verheerende Waffen, passen Sie Ihre Klasse, Fähigkeiten und Vergünstigungen an und messen Sie sich mit Ihren Highscores und Speedruns auf den Ranglisten.
PROTOCORE Systemvoraussetzungen
---
 Überleben Sie albtraumhafte Schrecken in SILENT DOOM, einem Ego-Abenteuer mit höllenartigen Feinden und Permadeath. Sterben und neu anfangen in prozedural erzeugten Levels, ständig wachsenden Schwierigkeiten und sich ständig weiterentwickelnden Herausforderungen. Verwenden Sie Ressourcen, erkunden Sie Ihre Umgebung, lösen Sie Rätsel und plündern Sie in Ihrer Mission, um die Zutaten für das notwendige Ritual zu finden, mit dem Sie den Dämon besiegen können, der Sie jagt.
SILENT DOOM Systemvoraussetzungen
OS: Windows 7/8/10 64-bit
Processor: 2 Ghz Dual Core
Memory: 4 GB RAM
Graphics: NVIDIA® GeForce® GTX 760 or AMD Radeon™ R7 260x with 2GB Video RAM
DirectX: Version 9.0c

OS: Windows 7/8/10 64-bit
Processor: Intel Core i3 / AMD Ryzen 3
Memory: 8 GB RAM
Graphics: NVIDIA® GeForce® GTX 1050TI with 4GB VRAM
DirectX: Version 9.0
---
 Zerreißen Sie Dämonen in diesem DOOM-ähnlichen rasanten Ego-Shooter und sammeln Sie die vier Höllensteine ein, um dem Labyrinth der Hölle zu entkommen. Töten Sie alles, was Ihnen im Weg steht, schwingen Sie verheerende und explosive Waffen wie Schrotflinten, Abschussgeräte und Koboldlaicher und dekorieren Sie die Hölle im Blut der Dämonen, die Sie abschlachten, neu. Bahnen Sie sich Ihren eigenen Weg und kämpfen Sie sich in nichtlinearer Spielweise durch die Hölle.
Scathe Systemvoraussetzungen
OS: Windows 7, Windows 8.1, Windows 10 (64-bit)
Processor: Intel i7-4770K @ 3.5GHz | AMD Ryzen 5 1500X @ 3.5GHz
Memory: 8 GB RAM
Graphics: NVIDIA GTX 760 2GB | AMD R9 280 3GB
DirectX: Version 11

OS: Windows 7, Windows 8.1, Windows 10 (64-bit)
Processor: Intel i7-6700K @ 4.00GHz | AMD Ryzen 5 2600X @ 3.6GHz
Memory: 16 GB RAM
Graphics: NVIDIA GTX 1070 8GB | AMD RX 5700 8GB
DirectX: Version 12
---
Was ist ein kooperatives First-Person-Shooter-Spiel?
Ein kooperativer First-Person-Shooter (Co-op FPS) ist ein Videospiel, das in einer First-Person-Perspektive gespielt wird und waffen- oder nahkampfbasierten Kampf in Zwei- oder Mehrspieler-Action bietet.
FPS-Spiele schränken die Sicht eines Spielers ein, d.h. sie neigen dazu, viel intensivere Action zu bieten, was perfekt sein kann, wenn man ein Mehrspieler-Element hinzufügt.
Kooperative FPS-Spiele gibt es in vielen Formen, darunter auch PvP-Teamspiele wie Overwatch, Counter-Strike: Global Offensive und Call of Duty: ModernWarfare sowie PvE-Spiele wie GTFO, Left 4 Dead 2 und Borderlands 3.
In den letzten Jahren hat die Popularität mit der Entwicklung von Battle Royale-Spielen wie Fortnite, PUBG und Warzone zugenommen. Ein großer Teil dieses explosionsartigen Anstiegs der Popularität ist auf die Einbeziehung von Koop-Spielen in Modi wie Duos, Trios und Squads zurückzuführen.
Co-op FPS-Spiele müssen nicht ausschließlich Shooter sein. Puzzlespiele haben mit Portal 2, We Were Here und Half Dead ihre Berechtigung erlangt und beweisen, dass die First-Person-Perspektive genreübergreifend eingesetzt werden kann.
Das Genre hat auch einen festen Platz in den Kategorien Überleben, Offene Welt und sogar Schurkenspiele gefunden, wobei Spiele wie Rust, Far Cry und The Forest beweisen, dass nicht alle Koop-FPS-Spiele rasante, adrenalingeladene Epen sein müssen.
Ob Rätsel, der Zweite Weltkrieg, die Königsschlacht oder taktische Spiele, es gibt eine FPS-Koop-Erfahrung, die nur darauf wartet, von Ihnen und Ihrem Freund entdeckt zu werden.
Hier kommen Tags ins Spiel.
Warum machen wir eine Top-5-Liste der kommenden Co-op FPS?
In der Welt der Co-op FPS-Spiele gibt es fantastische Spiele zu unglaublichen Preisen, aber Sie können auch einem größeren Risiko ausgesetzt sein, enttäuscht zu werden.
Nicht alle Spiele erreichen ihr Potenzial und erhalten eine Veröffentlichung, leider werden viele Spiele von ihren Entwicklern aufgegeben oder sogar in einem schlechten Zustand veröffentlicht und sind noch immer bei Steam erhältlich.
Steam ist im Geschäft mit dem Verkauf von Spielen, und das kann manchmal einen Qualitätsverlust bedeuten, um mehr Titel in den Steam Store zu bekommen und zum Kauf anzubieten.
Bei Allkeyshop glauben wir an Qualität vor Quantität, und aus diesem Grund verwenden wir jedes Datenbit, das Steam anbietet, und wir nutzen diese Daten, um eine möglichst detaillierte Analyse der Rangliste eines Spiels zu erstellen.
Wie erhalten wir unsere Rankings?
Unsere Ranglisten werden alle verfügbaren Daten berücksichtigen, insbesondere konzentrieren wir uns auf die tatsächlichen Bewertungen, Meinungen und Empfehlungen der Spieler.
Als Teil unserer Rangliste stellen wir sicher, dass nur diejenigen, die das Spiel besitzen, es derzeit in ihrer Bibliothek verfügbar haben und in ihr Konto eingeloggt sind, für ihre Lieblingsspiele abstimmen können. Dies stellt zusammen mit unseren anderen Daten sicher, dass wir über ein möglichst genaues Ranglistensystem verfügen.
Wir zeigen nur die 15 besten Spiele, damit Sie nicht mit Hunderten von Spielen überhäuft und mit zu vielen Daten überhäuft werden. Wir planen, unsere Top 15 jede Woche zu aktualisieren, aber wir werden diesen Plan möglicherweise ändern, wenn wir feststellen, dass es einen echten Bedarf von Ihnen, unseren Benutzern, gibt.
Allkeyshop ist eine Preisvergleichsseite mit der Absicht, den Spielern den bestmöglichen Preis für die besten verfügbaren Spiele zu bieten. Wir bleiben völlig unparteiisch in Bezug auf Preise und Verkäufer und zeigen sowohl Online-Sites als auch Plattformen wie Steam, Origin und Epic an, und wir bleiben völlig unparteiisch in Bezug auf die Bewertung der Spiele, die wir in unseren Ranglisten hervorheben.
Unsere Rankings basieren auf unseren Nutzern, auf die wir keinen Einfluss haben, und wir bleiben unparteiisch in Bezug auf die Bewertungen und Rankings aller Spiele.
---