Wie findet man den besten Preis für Company of Heroes 2: Ardennes Assault?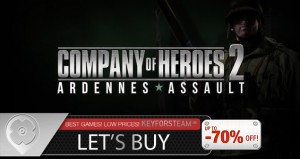 Company of Heroes 2: Ardennes Assault ist eine eigenständige Erweiterung von Company of Heroes 2.
Winter 1944 . Die Deutschen stoßen in den Ardennen vor und wir sind auf der Seite der US Armee. Wir übernehmen das Kommando der Streitkräfte an der Westfront und müssen 18 Missionen in dieser Kampagne bewältigen. Unsere Kompanie und auch einzelne Einheiten sollen dabei Erfahrungspunkte sammeln und aufsteigen. Es werden dabei Gewinne und Verluste aufgezeichnet.
Wir haben viel Spielraum bei der Erfüllung der uns gestellten Missionen und können neben der vollständigen Basis auch auf den gesamten Technologiebaum der US-Armee zurückgreifen.
Features:
Erste Stand-Alone-Einzelspielererweiterung von Company of Heroes 2
Übernehmt das Kommando der alliierten US-Streitkräfte an der Westfront
Jede Entscheidung hat nicht nur einen direkten Einfluss auf den Ausgang der Missionen, sondern auf die gesamte Kampagne
Preisgekrönte Echtzeitstrategiespiel-Serie
Übernimm die Verantwortung und das Kommando der Streitkräfte und schreibe die Geschichte des 2. Weltkrieges nach deinen Vorstellungen um….
Hol Dir den Company of Heroes 2: Ardennes Assault Steam Key bei Keyforsteam. Um dir den Kauf zu erleichtern, erklären wir dir hier, wie es geht und was du beachten solltest.
Ausschlaggebend ist mit Sicherheit der Preis, dass du dich für einen Steam Key von Company of Heroes 2: Ardennes Assault entschieden hast. Die Spiele-Keys können zu diesem unschlagbaren Preis angeboten werden, da die Kosten dafür sehr gering sind.
Es gibt keine Transport- und Herstellungskosten, wie DVD-Druck und Versand.  Alles ist Papierlos und kann zuverlässig direkt online an den Käufer weitergegeben werden.  Das beeinflusst erheblich den Preis und den kontinuierlich ansteigenden Umsatz von digitalen Ausgaben an Keys. Dank immer schnelleren Verbindungen und immer größeren Festplatten werden digitale Spiele zum neuen Standard.
Der Beweis: Kauf jetzt einen Company of Heroes 2: Ardennes Assault Steam Key beim Preisvergleich von Keyforsteam und spare bis zu 50%  auf den normalen Listenpreis.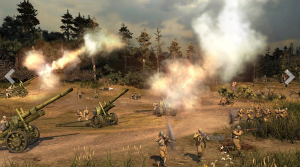 Du sparst dir außerdem den Weg durch die Shops und musst auch im WWW keine Preise vergleichen. Dies übernimmt Keyforsteam.de für dich und bietet dir eine Übersicht an passenden Verkäufern/ Shops an.
Dafür musst du nur auf diese Seite gehen:
[sws_button class="" size="sws_btn_small" align="sws_btn_align_center" href="https://www.keyforsteam.de/company-of-heroes-2-ardennes-assault-key-kaufen-preisvergleich/" target="_blank" label="Company of Heroes 2″ template="sws_btn_default" textcolor="f7f7f7″ bgcolor="911212″ bgcolorhover="911212″ glow="sws_btn_glow"] [/sws_button]
Dort wählst Du Deinen Lieblingshops aus.
Entweder suchst du dir den mit dem günstigsten Preis, sicherheitshalber einen in deiner Sprache oder den mit einer Bonus – Edition heraus. Über Erfahrungen welche andere User mit  den verschiedenen Shops gesammelt haben, kannst du dich gern bei uns auf der Seite informieren. Dann klickst Du auf den "Zum Shop"-Button des ausgesuchten Verkäufers/Anbieters und wirst direkt auf dessen Seite weitergeleitet.
Anschließend kannst Du das Spiel Company of Heroes 2: Ardennes Assault  in den Warenkorb legen und zur Kasse gehen. Nach erfolgter Zahlung erhältst Du Deinen Steam Key, einen Code, den Du einlösen kannst, um das Spiel zu bekommen.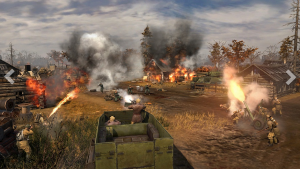 Informationen zu Steam:
Um die Steam Plattform und Steam CD Keys (Region Free / Weltweit) nutzen zu können, musst du dich erstmal registrieren. Anschließend kannst du  den Steam Client downloaden. (Download Link befindet sich auch auf der Spielseite unten bei der Steam Beschreibung)
Dann meldest du dich am Steam Client an und klickt auf "hinzufügen" Spiel (befindet sich in der linken unteren Ecke) Damit aktivierst du auf Steam ein beliebiges Produkt und gibst den CD Key an und das Spiel wird aktiviert. Der Steam wird dann direkt zu deiner Bibliothek hinzugefügt.
Der beste Preis kann auch eine russische Version des Spiels sein, denn  einige der aufgelisteten Stores bieten russische Versionen von Company of Heroes 2: Ardennes Assault  zum Verkauf an.
Zum aktivieren und spielen eines russischen Keys sind einige Steps zu beachten. Der Store, bei welchem du gekauft hast, wird dir eine genaue Step by Step Anleitung dazu geben. Bitte achte besonders auf die Sprach-Auswahl!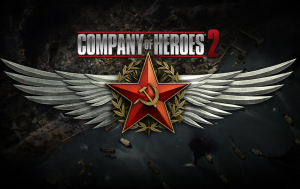 GANZ WICHTIG: Du kaufst nicht bei Keyforsteam selbst ein, denn Keyforsteam ist kein Shop sondern bietet Dir nur den Service des Preisvergleiches an. Den Kauf selbst tätigst Du bei dem von Dir gewählten Shop.
Achte bitte vor deinem Kauf auf die übliche Lieferzeit des Verkäufers Deiner Wahl, die verfügbaren Sprachen des Spiels und überprüfe die Zahlungsmethoden, die dafür angeboten werden.
Wenn es dein erster Einkauf ist, kann es passieren, dass Du ein paar Prüfungen zu Deiner Identität durchführen musst, das ist aber normal. Du kannst  zum Beispiel gebeten werden, ein Foto von Deinem Personalausweis zu machen oder Deine Telefonnummer anzugeben.
Jedes Geschäft hat seine eigene Lieferzeit. Einige liefern sofort, zum Beispiel Kinguin, G2A etc und bei anderen kann es zwischen ein paar Minuten bis zu ein paar Stunden dauern.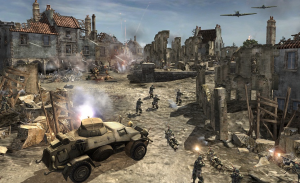 Beachte, dass wenn Du ein Spiel bestellst, welches noch nicht erschienen ist (Release Datum!) musst Du in der Regel bis zum Release-Tag warten, um Deinen Key zu bekommen. Keine Panik, das ist völlig in Ordnung, denn auch die Shops müssen auf die Veröffentlichung warten.
Zögere nicht bei Fragen oder einem Anliegen den Store bei dem Du gekauft hast, zu kontaktieren. Sie helfen dir in der Regel gern weiter.
Wenn Du einmal bei dem Support selbst nichts erreichst, was durchaus schon vorkommen kann, kannst Du Dich im zweiten Schritt auch jederzeit an den Support von Keyforsteam wenden. Bitte kontaktiere uns unter:  contact@keyforsteam.de Dort wird man versuchen, sich für dich und dein Anliegen einzusetzen und etwas beim Shop zu erreichen.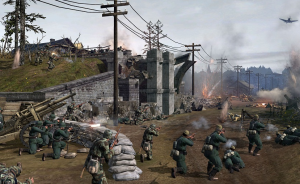 Wie Du den besten Preis für Company of Heroes 2: Ardennes Assault findest?
Wir haben tolle Features auf unseren Seiten eingesetzt, Du kannst hier Stores nach Sprachen filtern, erhältst  schnellen Zugang zu unseren FAQ`s und hast die Möglichkeit den Preisalarm für ein beliebiges Spiel zu aktivieren.
Der Preisalarm: Wenn Du warten möchtest, bis der Preis für Company of Heroes 2: Ardennes Assault runter geht, oder deinen gewünschten Preis erreicht, kannst Du den Preisalarm aktivieren.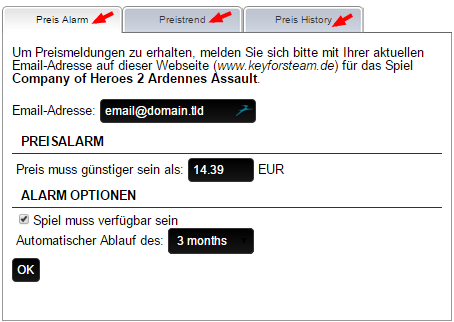 Du erhältst dann eine Email, wenn das Spiel den gewünschten Preis erreicht und kannst aber auch den Preis Trend der vergangenen Tage ganz einfach nachvollziehen.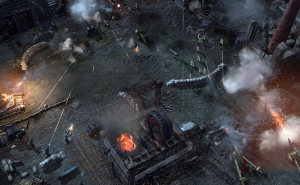 Zahlungsmethoden: Die Stores / Verkäufer haben fast identische Zahlungsmethoden und bieten dir die unterschiedlichsten Möglichkeiten. Suche dir die für dich einfachste oder sicherste Variante heraus.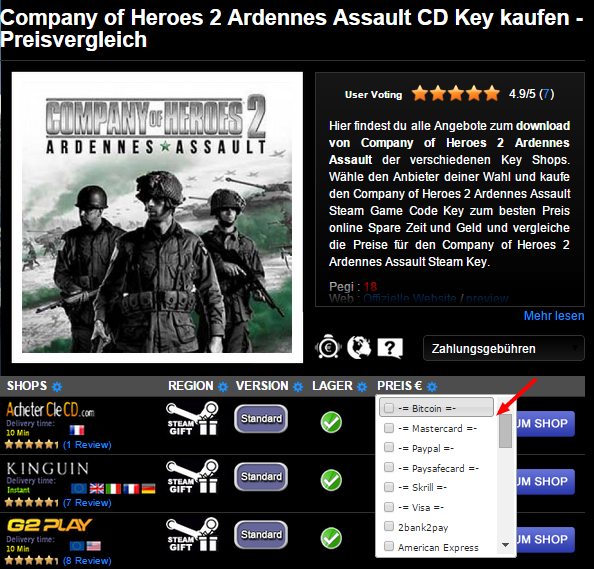 Die FAQ`s: Wenn Du noch Fragen hast, findest Du hier in unseren FAQ`s bestimmt die passenden Antworten dazu. Sollte dies nicht der Fall sein, kannst Du  Deine Fragen gern individuell an uns stellen.
Wir hoffen, wir konnten Deine Fragen in unserem Blog Post beantworten und Dir dabei behilflich sein, deinen Company of Heroes 2: Ardennes Assault Steam Key zu kaufen.
Danke für Dein Feedback zum Spiel und zu unserem Artikel!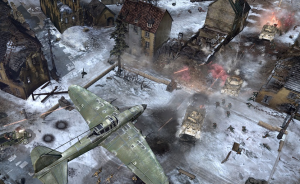 ---