TOP PC-Spiele im September 2018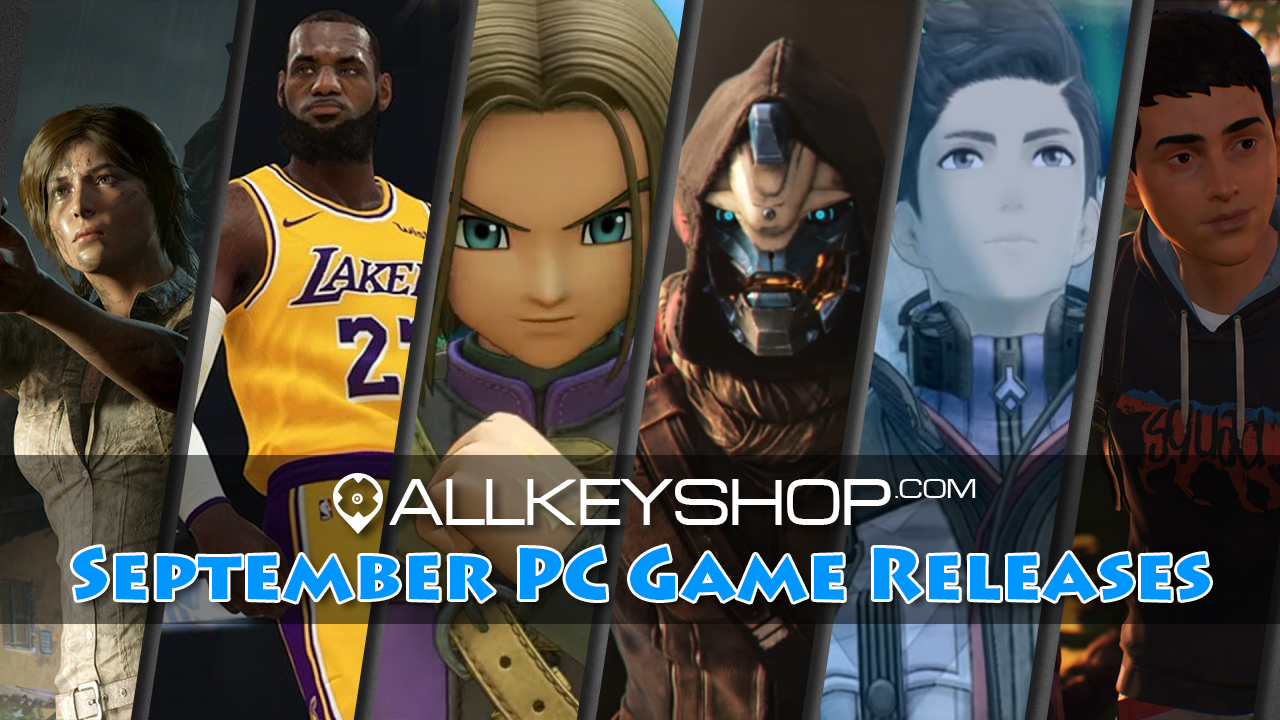 Ein weiterer Monat, ein weiterer Satz von Spielen, die du deiner Bibliothek hinzufügen kannst. Dieser Monat ist mit großen Veröffentlichungen gefüllt, auf die du wahrscheinlich schon lange gewartet hast. Daher haben wir auf dieser Seite die wichtigsten PC-Spielversionen für September 2018 aufgelistet. Auf geht's:
---
Destiny 2 Forsaken – 4. September
---
---
Forsaken ist Destiny 2's große Erweiterung im zweiten Jahr und wahrscheinlich Bungies größter Anstoß, um Spieler dazu zu bringen, zum shared-world Shooter zurückzukehren. Jeder Lieblingsjäger, Cayde-6, wird in den Staub beißen, aber das ist nicht die einzige Sache, die sich ändert. Es gibt einen neuen Modus namens Gambit, sowie neuen Story-Inhalt, wichtige Änderungen an Waffen, Mods und Masterworks und mehr Gründe, damit die Spieler während des Endspiels weiter spielen können.
---
Dragon Quest 11 Echoes of an Elusive Age – 4. September
---
---
Der elfte nummerierte Eintrag in der lang laufenden JRPG-Serie folgt der Geschichte eines Helden, der versucht, das Geheimnis seines unwahrscheinlichen Schicksals aufzudecken. Das Spiel bietet eine charismatische Besetzung, eine wunderschöne Spielwelt und einige klassische Hardcore-JRPG-Schlachten. Die Frage ist, wie bei jedem Dragon Quest-Titel, der nach Westen führt, ob er DER EINE ist, der die Serie im Westen so populär macht wie in Japan.
---
Immortal Unchained – 7. September
---
---
Immortal Unchained bezeichnet sich selbst als den ersten Hardcore-Shooter im Action-RPG-Bereich. Du bist ein Unsterblicher, der gerade aufgewacht ist, um zu sehen, dass die 9 Welten enden. Die Geschichte wurde von einem Team geschrieben, dass Anne Toole (The Witcher) und Adrian Vershinin (Killzone: Shadow Fall, Battlefield 1) enthält. Es gibt auch verschiedene Builds und Waffen und eine Reihe von epischen Bossen, die es zu besiegen gilt.
---
NBA 2K19 – 11. September
---
---
Da NBA 2K18 auf Steam meist negative Bewertungen erhält und immer noch zum meistverkauften Titel in der Franchise wird, ist es schwer vorstellbar, was wir von der diesjährigen Iteration erwarten können. Dennoch ist es schwer, nicht hoffnungsvoll zu sein, es ist immerhin der 20. Geburtstag der Serie. In diesem Jahr verspricht Visual Concepts "erstklassige Grafik und Gameplay, plus" bahnbrechende Spielmodi und eine immersive offene "Nachbarschaft". Wir werden sehen.
---
Shadow of the Tomb Raider – 14. September
---
---
Eidos Montreal übernimmt Laras letztes Abenteuer in der neu gestarteten Serie. Das Studio hat versprochen, dem, was Crystal Dynamics begonnen hat, treu zu bleiben, sagt aber, dass sie es auch mit ihren charakteristischen Akzenten versehen werden. Meistere den Dschungel, während du die Umgebung nutzt, um Feinde abzuwehren, während du unbemerkt bleibst. Entdecke und erforsche die Gräber, die diesmal schrecklicher sind, mit tödlichen Rätseln, die die Spieler an den Rand ihres Daseins treiben.
---
Insurgency Sandstorm – 18. September
---
---
Genau wie sein Vorgänger ist Sandstorm ein teambasierter taktischer FPS, der sich stark auf Nahkämpfe stützt. Dies verbessert, erweitert und baut in jeder Hinsicht auf das Original auf. In einem fiktiven zeitgenössischen Konflikt im Nahen Osten müssen die Spieler ihre Strategie planen, da Eile oft mit einem noch schnelleren Tod einhergeht. Und zum ersten Mal können Spieler ihren Charakter anpassen.
---
Transference – 18. September
---
---
Zuallererst kann dieses Spiel in einem Nicht-VR-Setup gespielt werden. Die Übertragung bezeichnet sich selbst als "einen Thriller, der sich wie ein Film anfühlt". Die Spieler haben die Aufgabe, zwischen dem Bewusstsein eines jeden Familienmitglieds zu wechseln, das es den Spielern ermöglicht, ein Geheimnis zusammenzufügen. Erkunde das Zuhause dieser Familie in der ersten Person und tauche ein in einen "beunruhigenden Psychothriller". Jetzt weißt du, was Elijah Wood getan hat.
---
Valkyria Chronicles 4 – 25. September
---
---
Wenn du noch nie zuvor ein Valkyria Chronicles Spiel gespielt hast, ist es verständlich. Nur das Original hat es jemals auf den PC geschafft, mit den 2 Fortsetzungen auf Sonys PSP und nur einer von denen, die jemals im Westen veröffentlicht wurden. Mit dem vierten Eintrag bringt Sega das Spiel abermals auf den PC. Es ist ein Teil Turn-based Strategie, ein Teil RPG und Teil Echtzeit-Third-Person-Shooter. Es sind definitiv eine Menge Dinge, aber es ist auch eines der besten militärischen Action-Spiele, die man aus dem Osten bekommen kann.
---
Pathfinder Kingmaker – 25. September
---
---
Nach einer erfolgreichen Kickstarter-Kampagne bringt Owlcat Games nun das beliebte Pathfinder-Tabletop-Universum in die Videospielwelt. In Kingmaker spielen Spieler sowohl als Abenteurer als auch als aufstrebender König. Erkunde die Gestohlenen Länder, erschaffe dein eigenes Königreich aus der Wildnis und gestalte die Welt um dich herum mit deinen ganz eigenen Entscheidungen.
---
Life is Strange 2 – 27. September
---
---
Hier ist eine Fortsetzung, die längst überfällig ist. Dontnods offizieller zweiter Einstieg in die Serie wird eine brandneue Besetzung von Charakteren unter der Leitung der Brüder Sean und Daniel sein. Ein tragischer Vorfall versetzt dich auf die Flucht vor der Polizei und in deine  Heimatstadt Mexiko, während du versuchst, "eine plötzliche und mysteriöse übernatürliche Macht" zu verbergen.
---
FIFA 19 – 29. September
---
---
Die Fußballsimulation von EA Sports ist zurück. Mit der Frosbyte-Engine bietet sie dieses Jahr die UEFA Champions League und erweiterte Gameplay-Tools für das ultimative Fußballerlebnis. Erlebe das Finale der Geschichte von Alex Hunter in The Journey: Champions, einem neuen Modus, der in den FIFA Ultimate Team Modus integriert ist.
---
Und? Haben wir zu viel versprochen? Welches Spiel ist dein Favorit und warum?
Lass es uns in einem Kommentar wissen.
---