TOP DEAL The Crew Season Pass ON FOCUS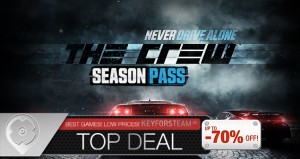 Schaut her, welche Vorteile ihr euch mit dem The Crew Season Pass verschaffen könnt!
Abgesehen von einer immer vollen Garage erhalten Besitzer des Season Passes gleich exklusiv zum Release die beiden Fahrzeuge Ferrari 458 Speciale und den McLaren 12C dazu. Vielerlei Extras,  plus 23 zusätzliche Tuning-Kits sind ebenfalls darin enthalten, zusammen mit einem frühen Zugang zu 4 DLC-Packs. Jedes Pack beinhaltet  2 Wagen und ein Supercar- Das sind 12 weitere tolle Flitzer!
Car Packs:
Extreme-Car-Pack – enthält Performance-Fahrzeuge, die für aufregende, oktangeladene Missionen konzipiert wurden – erhältlich ab Januar 2015
Speed-Car-Pack – enthält Sportwagen, die bis ins Detail auf Beschleunigung und Tempo getuned sind – erhältlich ab Februar 2015
Retro-Car-Pack – erhältlich ab März 2015 – Oldtimer, mit denen man sich an allen legendären Schauplätzen der USA in Szene setzen kann
Rallye-Car-Pack bietet den Spielern Geländefahrzeuge, die sich für Missionen in jeglichem Gelände eigenen
Weitere Extras:
Zugriff auf 23 weitere Tuning-Kits, verbessert die Fahrzeuge des Season Passes für besondere Leistungen auf jeglichem Gelände
Alle offiziellen Lackierungen und Felgen für jedes Auto
Neuer Player-versus-Player (PvP) -Modus, der ab Anfang 2015 verfügbar sein wird
Mit dem Release der einzelnen Packs gibt es neue Missionen, die dem Thema des Packs entsprechen. Diese sind für alle Spieler kostenlos. Außerdem gibt es neue Anpassungsmöglichkeiten, Lackierungen, Felgen, Innenräume und Tuning-Spezifikationen …
Systemanforderungen:
MINIMUM

Supported OS – Windows 7 SP1, Windows 8/8.1 (64bit) Processor – Intel Core2 Quad Q9300 @ 2.5 GHz or AMD Athlon II X4 620 @ 2.6 GHz (or better) RAM – 4GB Video Card – NVIDIA GeForce GTX260 or AMD Radeon HD4870 (512MB VRAM with Shader Model 4.0 or higher)

RECOMMENDED

Supported OS – Windows 8/8.1 (64bit) Processor – Intel Core i5-750 @ 2.66 GHz or AMD Phenom II X4 940 @ 3.0 GHz (or better) RAM – 8GB Video Card – NVIDIA GeForce GTX580 or AMD Radeon 6870 (1024MB VRAM with Shader Model 5.0 or higher)

OPTIMAL

Supported OS – Windows 8/8.1 (64bit) Processor – Intel Core i7-2600K @ 3.4 GHz or AMD FX-8150 @ 3.6 GHz (or better) RAM – 8GB Video Card – NVIDIA GeForce GTX670 or AMD Radeon 7870 (2048MB VRAM with Shader Model 5.0 or higher
[sws_button class="" size="sws_btn_small" align="sws_btn_align_center" href="https://www.keyforsteam.de/the-crew-season-pass-key-kaufen-preisvergleich/" target="_blank" label="THE CREW SEASON PASS" template="sws_btn_default" textcolor="f7f7f7″ bgcolor="911212″ bgcolorhover="911212″ glow="sws_btn_glow"] [/sws_button]