Temtem verkauft mehr als eine halbe Million Exemplare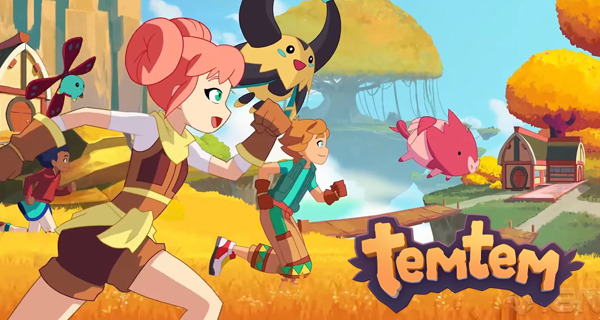 Cremas Pokemon-ähnliches MMO namens Temtem hat sich im ersten Monat über eine halbe Million Mal verkauft. Das Spiel startete am 21. Januar dieses Jahres als Early Access on Steam.
---
---
Pokemon-Fans hatten sich ein Spiel wie Temtem gewünscht, ein Massively Multiplayer Online Game. Die Entwickler Crema und der Publisher Humble Bundle waren diejenigen, die das Spiel liefern sollten. Die Spieler können als Dompteure spielen, die in der Lage sind, Kreaturen zu fangen, zu zähmen und zu züchten, die unterschiedliche Eigenschaften, Fähigkeiten und Elementarverwandtschaften haben. Das Besondere an diesem Spiel ist, dass die Spieler online mit anderen Temtem-Bändigern in Verbindung treten, interagieren und spielen können und sich in PVP-Schlachten begeben können.
Die Ankündigung, dass das Spiel mehr als 500.000 verkaufte Exemplare erreichen konnte, wurde auf Twitter veröffentlicht:
Interesting facts, don't you think? Here's another nice number: Temtem has officially sold over 500.000 copies worldwide!🎉✨ We wanted to thank everyone for their support, and take a look at how we are doing so far ❤ There is so much more yet to come!

— Temtem (@PlayTemtem) February 21, 2020
Außerdem wird derzeit eine Roadmap für das Spiel ausgearbeitet, und die Entwickler werden diese bald mitteilen.
Zusammen mit der Ankündigung des Meilensteins war das Update 0.5.13, das mit einigen Korrekturen für das Spiel kam. Sie können sich die Patch-Notizen unten ansehen:
Neue Sachen
Während der kompetitiven Pick & Ban-Phase wurde ein neuer Musiktitel hinzugefügt.
Verbesserungen
Dem Handelsbildschirm wurde ein Countdown hinzugefügt. Nachdem beide Spieler bereit sind, gibt es einen 5-Sekunden-Countdown, bei dem die Spieler alles überprüfen und den Handel abbrechen können, wenn sie sich über etwas nicht sicher sind.
Beim Verlassen des Handelsbildschirms wird nun sofort der Bereitschaftsknopf abgebrochen, bevor der Spieler den Ausgang mit dem Spieler bestätigt.
Die Größe des Serverraums wurde erhöht, um mehr Spieler gleichzeitig aufnehmen zu können.
Verbesserte Barnshe-Texturen.
Behoben
Mehrere Probleme bezüglich der Synchronisation des Bereitschaftsbuttons während des Trades wurden behoben.
Einige Fälle der filmischen Initialisierung wurden verbessert und gesichert, um weitere Fehler zu verhindern.
Es wurden einige Fälle behoben, in denen beim Versuch, ein Temtem, das mit einer solchen ausgestattet war, zu lösen, Zahnräder verloren gehen konnten.
Es wurde behoben, dass beim Gespräch mit dem blinden Passagier in Tucma ein Fehler auftrat.

Es wurde behoben, dass die Co-op-Party abgebrochen wurde, während Dr. Hamijos Gespräch im Anak-Vulkan

.

Es wurde behoben, dass Temtem ihren Schatten verlor, nachdem sie in der Tempedia inspiziert wurden.
Es wurde behoben, dass die kürzlich gefangenen Temtem Ihres Partners nicht in Kämpfen eingesetzt werden konnten.
Es wurde ein Softlock behoben, wenn man einen Gegenstand auswählt, den der Koop-Partner bereits hat.
Ein Spielabsturz beim Drücken von TAB/Steuerung im Tresorraum wurde behoben.
Es wurde ein Problem behoben, das in Kämpfen auftrat, wenn man die Verbindung verlor, nachdem man eine ungezähmte Temtempfeile während einer Koop-Gruppe erobert hatte.
Es wurde behoben, dass gehandelte Eier mit 0 Minuten bis zum Schlüpfen nach dem Handel nicht schlüpfen.
Es wurde behoben, dass Gegenstände während des Absturz-Kinos nicht weggenommen wurden, wenn man eine Koop-Party gemacht hat.
Es wurde behoben, dass man nach dem Erreichen des Gefängnisses in einer Koop-Party in der Schwebe blieb.
Es wurde behoben, dass eingefrorene, sich entwickelnde Temtem nach der Entwicklungssequenz nicht als eingefroren erschienen.
Omninesia-Dojos, deren Beschreibung miteinander vertauscht wurde, wurden repariert.
Es wurde behoben, dass sie nicht mehr aufstehen konnten, nachdem sie sich auf die Bänke der Jaguar-Lounge gesetzt hatten.
Temtem ist derzeit unter Steam Early Access verfügbar.
---