Super Smash Bros | Die Charaktere
Zahlreiche Charaktere haben sich aus ihren eigenen Spielen heraus auf den Weg gemacht, um sich bei diesem Kampf-Spektakel zu treffen.
Egal, ob man Gegner angreift und sie von den Stages zu fegen oder gegen Freunde in der Nähe spielt….  Über das Internet besteht sogar die Chance, gegen Spieler weltweit anzutreten.
Gegner in die Luft befördern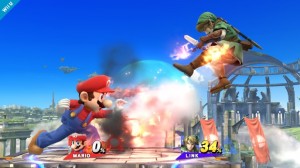 Wenn du Gegner triffst, dann füge ihnen so viel Schaden wie möglich zu, damit  steigt deren Schadensanzeige und desto weiter kannst du sie in die Luft befördern.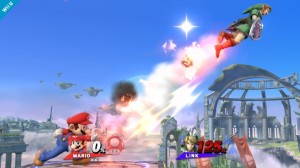 Mit den mächtigen Smash-Attacken kannst du sie sogar von der Stage fegen.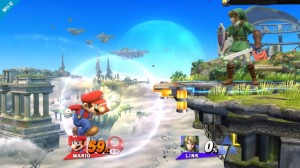 Solltest du selbst von einer Stage katapultiert werden, dann kannst du Sprünge und Spezialtechniken einsetzen, um zurückzukehren und den Kampf fortzusetzen.
Helfertrophäen
Wenn du eine Helfertrophäe aufhebst, ruft dieser Gegenstand dir eine Reihe von Charakteren zu Hilfe.
Melinda
Melinda ist die gute Zuckerfee und kommt direkt aus "Animal Crossing". Wer sie ruft,wird mit heilender Nahrung / Leckereien versorgt. Wer diese berührt, wird geheilt und zusätzlich von Melinda noch angefeuert.
Ghirahim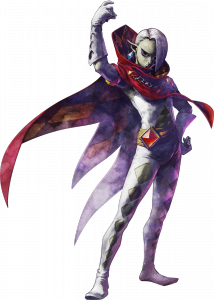 Ghirahim stammt aus dem Spiel "The Legend of Zelda und ist akrobatisch veranlagt. Er ist geschickt im Umgang mit Messer und Schwert.  Angriffe gegen ihn werden ihn nicht niederstrecken. Er kann sich sogar zurück ins Spiel teleportieren, falls er vom Schlachtfeld fliegt.
Albtraum-Zauberer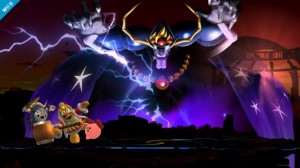 Dieser Gegner aus den Kirby-Spielen verwandelt sich nach seinem ersten Auftritt als mächtige Sphäre in einen Zauberer, der den Bildschirm nach und nach in Dunkelheit hüllt.
Die Spieler verlieren im Dunkeln ihre Orientierung.
Fosfora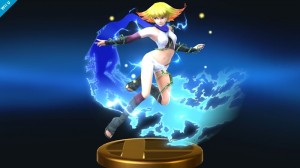 Fosfora aus  "Kid Icarus: Uprising" ist eine kühle Schönheit, die mit rasender Geschwindigkeit durch die Lüfte fliegt und dabei Blitze abfeuert. Sie ist unbesiegbar.
Color TV-Game 15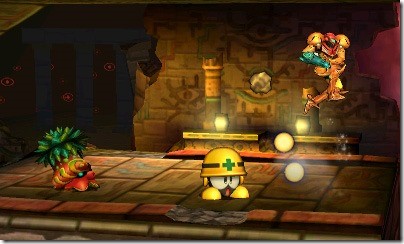 Color TV-Game 15 war eine Heimkonsole, die 1977 in Japan auf den Markt kam. Von allen Spielelementen in Super Smash Bros. hat dies die Ehre, das Älteste zu sein.
In Super Smash Bros., wird der "Ball" über Paddles links und rechts über das Spielfeld geschickt. Ein Kämpfer, der vom Ball oder einem Paddle getroffen wird, erleidet Schaden und wird durch die Gegend geschleudert.
Midna

Midna aus "The Legend of Zelda" kann ihre Haare in eine riesige Hand verwandeln, mit der sie andere sich in der Nähe befindenden Gegner greifen und durch die Luft schleudern kann.  Sollte kein Gegner vorhanden sein, teleportiert sie sich ins Spiel und nimmt die Verfolgung auf.
Ashley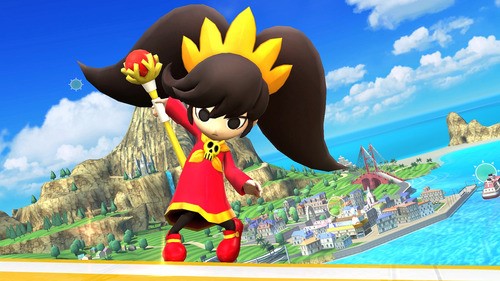 Ashley stammt aus den WarioWare-Spielen. Um sie herum befindet sich eine dunkle Zone. Gegner, welche in diese gelangen, erleiden permanent Schaden und bewegen sich in Zeitlupe. Außerdem bewirkt die dunkle Zone vielerlei Änderungen, wie z.B. konsumierte Nahrung heilt nicht, sondern fügt Schaden zu.
Mother Brain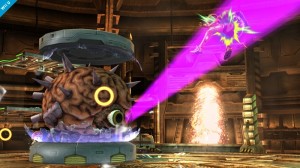 Mother Brain aus den Metroid-Spielen ist eine gewaltige Helfertrophäe. Sie kann Laserstrahlen mit vertikalem Trackingsystem abfeuert. Wer davon getroffen wird, erleidet zahlreiche Treffer und heftigen Schaden. Ihre  Schusslinie besser meiden, denn es ist nicht möglich, Mother Brain durch einen Angriff zu besiegen.
Dunkle Samus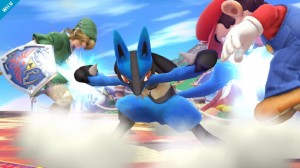 Die Dunkle Samus, eine energiebasierte Lebensform  feuert rasante Zielfluggeschosse ab und wirbelt Gegner, die sich ihr nähern, mit gewaltigem Schwung durch die Lüfte.
Dr. Kawashima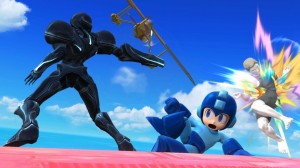 Der gute Doktor aus "Brain Age" hält sich gerne abseits des Geschehens auf und bewirft die Spieler mit Zahlen. Ergeben zwei aufeinandertreffende Zahlen die Summe 10, kommt es zu einer gewaltigen Explosion. Du kannst die Richtung der Zahlenblasen ändern, indem du sie angreifst.
---
[sws_button class="" size="sws_btn_small" align="sws_btn_align_center" href="https://www.keyforsteam.de/catalogue/search.php?q=smash" target="_blank" label="Super Smash Bros. Preisvergleich" template="sws_btn_default" textcolor="f7f7f7″ bgcolor="911212″ bgcolorhover="911212″ glow="sws_btn_glow"] [/sws_button]