Sei heute ein Allkeyshop-VIP!

Möchtest du mehr Punkte sammeln? Wir haben
exklusiv etwas für Allkeyshop VIPs!
Melde dich noch heute als Allkeyshop-VIP an, um exklusiven Zugang zu mehr Punkten zu erhalten, die du täglich erhalten kannst.
WAS BRAUCHST DU, UM EIN VIP ZU WERDEN? WIR BERATEN DICH HIER VORAB:
Hast du mindestens 15 eindeutige Kommentare (keine doppelten Inhalte von anderen Websites / Bewertungen), die auf der Website eingestellt sind, der du beitreten möchtest.
Deine Kommentare müssen gut geschrieben sein und eine anständige Länge haben und sich auf die Seite / das Spiel beziehen, über die du etwas postest.
Schreibe deine Kommentare in den Sprachen der Website (Deutsch für Keyforsteam, Englisch für AllKeyShop, Französisch für Goclecd usw.)
WIE DU DICH ALS ALLKEYSHOP VIP ANMELDEST:
Gehe zur CITATION TOOL-SEITE (Derzeit in CLOSED BETA. Nur ausgewählte Benutzer können auf die Seite zugreifen.)
Klicke im Banner (VIP) TALKATIVE auf VIP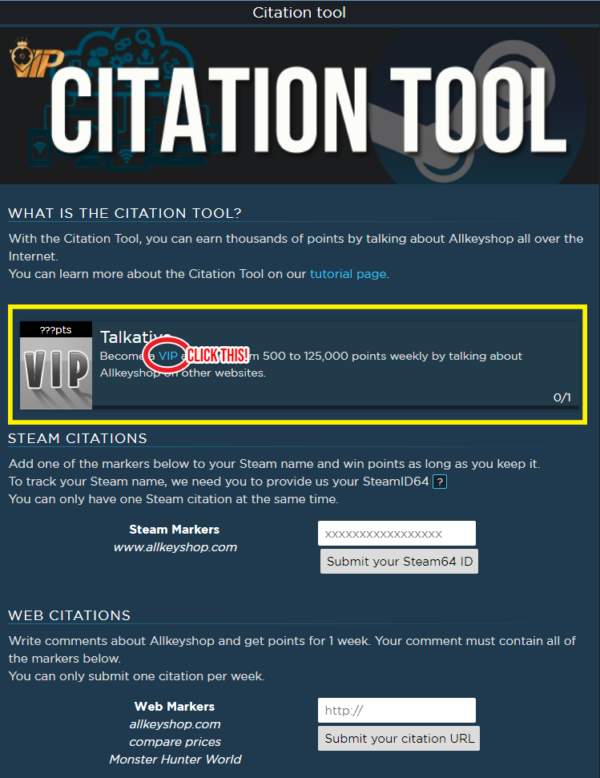 3: Warte, bis das Rewards-Team deine Bewerbung überprüft hat
* Das Rewards Team prüft die Anträge täglich. Da dies ein exklusives Programm für VIPs ist, wird das Screening gründlich durchgeführt, um sicherzustellen, dass nur VIP-Antragsteller die Bewerbung bestehen können. Bitte hab  etwas Geduld, da es einige Zeit dauern kann, bis dein Antrag genehmigt wird. Wir bedanken uns für dein Verständnis.
WAS BEKOMME ICH ALS ALLKEYSHOP-VIP?
Als VIP erhältst du exklusiven Zugang zu unserem Citation Tool, mit dem du täglich tausende Punkte erhältst!
WIE FUNKTIONIERT DAS CITATION TOOL?
Es gibt zwei Möglichkeiten, das "Citation Tol" zu verwenden:
1: Verwende den Steam-Marker für deine Steam-ID
Gehe auf Steam zu
Einstellungen> Freunde
Suche deinen
Profilnamen
und füge dann
www.allkeyshop.com
direkt neben deinem Profilnamen hinzu Klicke anschließend auf
OK

,
um die Änderungen an deinem Profilnamen zu speichern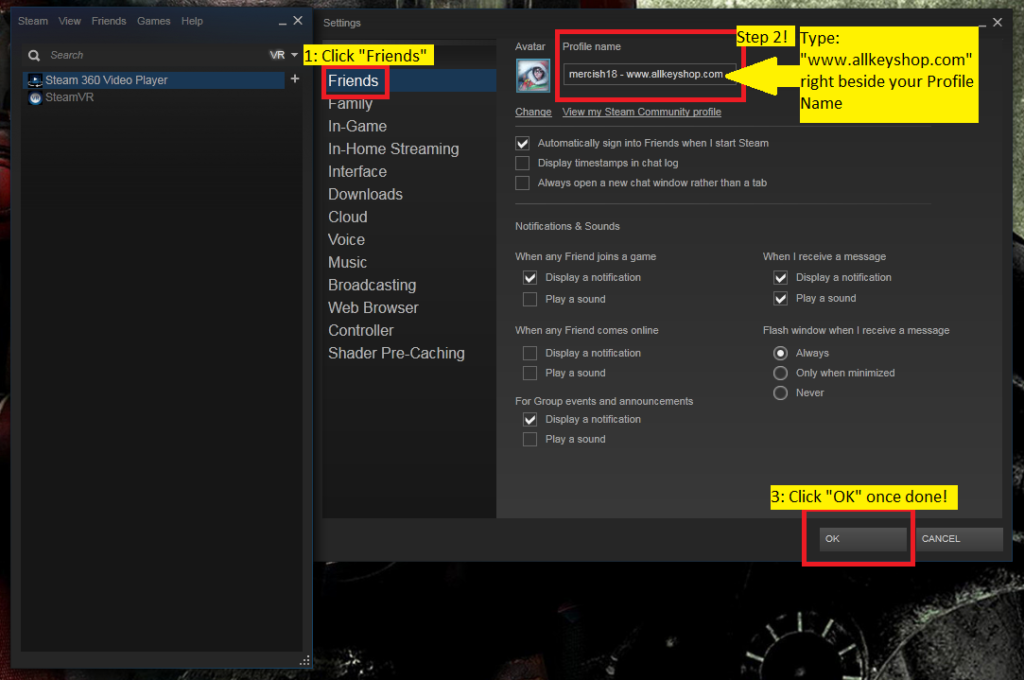 Hole dir deine Steam64-ID. Du benötigst die Website eines Drittanbieters wie Steamid.io, um deine Steam64-ID zu erhalten.
Gehe zu Steamid.io und klicke auf die Registerkarte "Nachschlagen". Füge in das bereitgestellte Feld deine Steam-Profil-URL oder einfach deine benutzerdefinierte Steam-URL ein.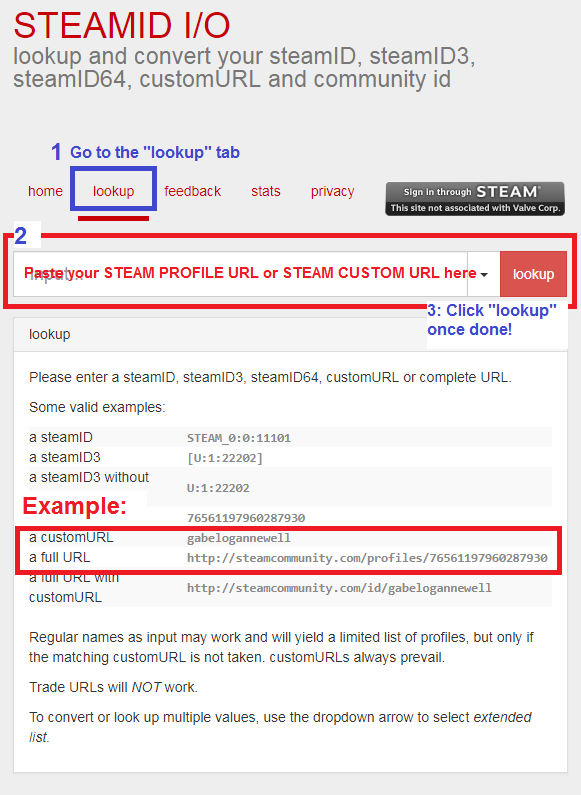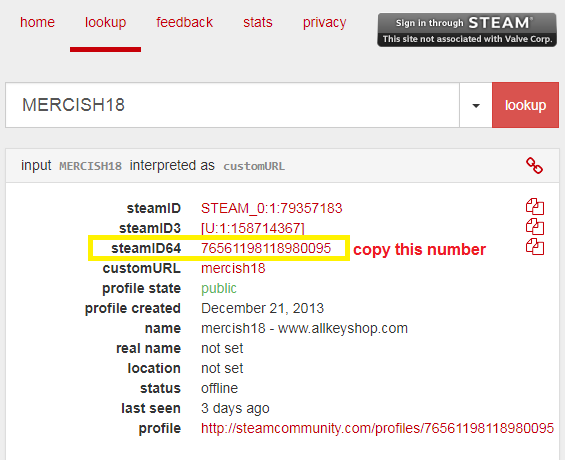 Gehe jetzt zur
Citation Tool-Seite
im Allkeyshop
Füge unter STEAM CITATIONS deine Steam64-ID in das dafür vorgesehene Feld ein und klicke dann auf deine Steam64-ID senden.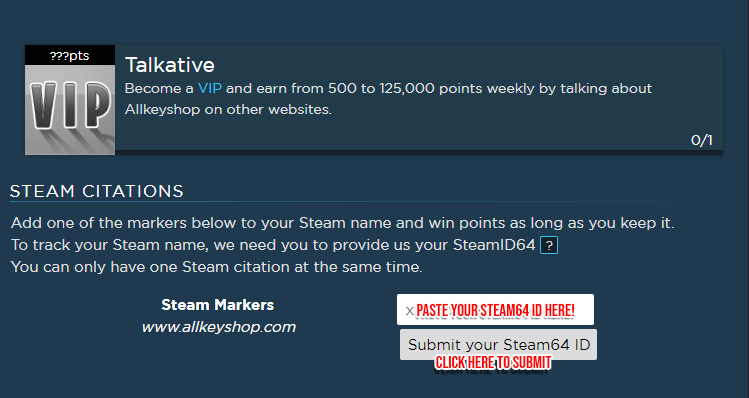 Warte, bis das Rewards-Team deine Einreichung überprüft hat.

Nach der Validierung und Bestätigung erhältst du die entsprechende Anzahl an Punkten auf deinem Allkeyshop-Konto. Du erhältst die genannte Anzahl an Punkten TÄGLICH. Die gute Nachricht ist, dass ud die täglichen Punkte für immer gewinnen kannst! Ja, unser VIP-Deal hat kein Ablaufdatum!
2: Verwende Webmarker auf anderen Websites
Du kannst Webmarker auch verwenden, um mehr Punkte zu sammeln. Es gibt mehrere Schritte, die du befolgen musst, um ein Zitat erfolgreich einzureichen und mit mehr Punkten belohnt zu werden.
Überprüfe die Seite "Citation Tool" und notiere dir die Web-Marker, die du in dein Zitat aufnehmen musst. Du musst alle Web-Markierungen verwenden, damit dein Zitat gültig ist.

Beachte auch das Spiel, dass zitiert werden muss. Im Bild oben ist das Spiel Sea of Thieves.
Um ein Zitat zu machen, musst du einen Kommentar in einem Artikel oder in einem Forumsbeitrag über Sea of Thieves veröffentlichen. (Beispiele in den Bildern unten)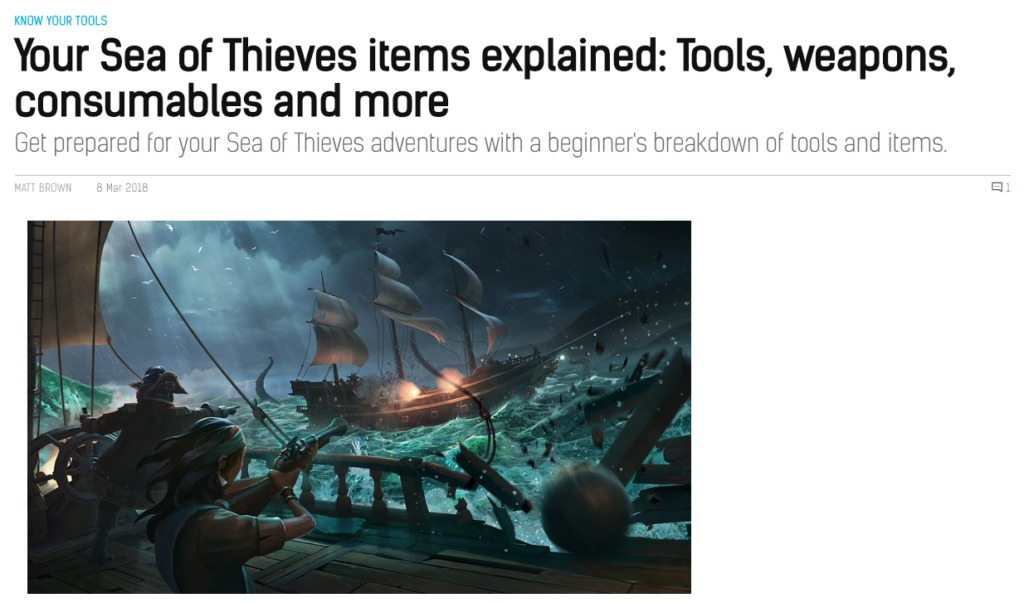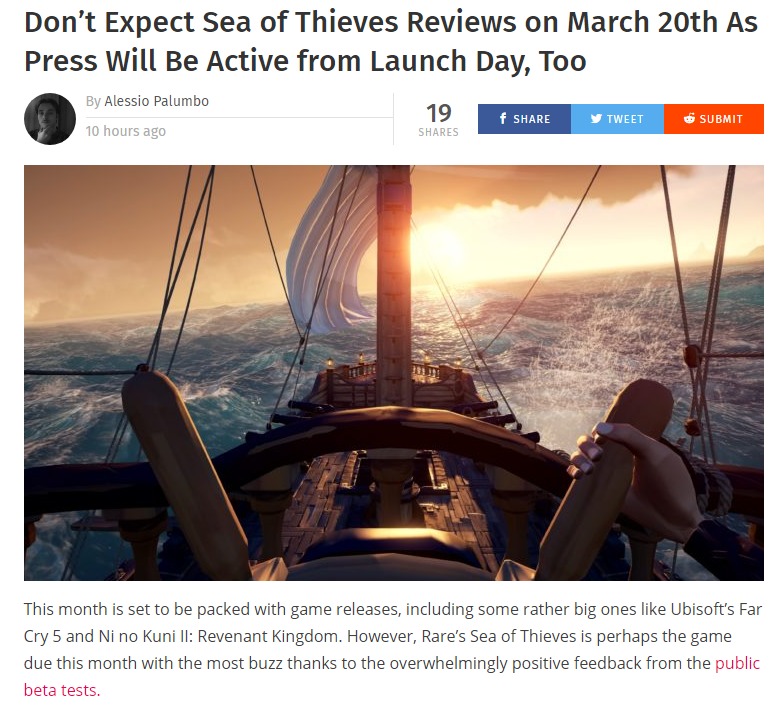 Du kannst dann deinen Kommentar posten. Stelle sicher, dass du alle erforderlichen Webmarker verwendenst, damit deine Zitierung gültig ist. In diesem Fall sind die erforderlichen Web-Marker: Sea of Thieves, allkeyshop.com und Preisvergleich.
Hier ist ein Beispielkommentar. Achte darauf, dass alle erforderlichen Webmarker verwendet wurden. Dies macht es zu einem gültigen Zitat.


Kopiere zum Senden deines Zitats einfach die URL des Beitrags, für den du einen Kommentar geschrieben hast, und füge ihn in das Feld auf der Seite "Citation Tool" ein:

Das Rewards-Team überprüft deine Einreichung und prüft, ob du berechtigt bist, Punkte zu erhalten.
Die Anzahl der Punkte, die du erhältst, hängt vom Alexa-Ranking der Website ab, auf der du die Web Citation veröffentlicht hast. Du erhältst die Punkte TÄGLICH für einen Zeitraum von 7 Tagen.
* Falls dein Zitat / Kommentar vom Websitebesitzer oder Moderator gelöscht wird, erhältst du die Punkte nicht mehr. Außerdem wird nur 1 Benutzer für 7 Tage für ein Zitat für eine bestimmte Website belohnt. Wenn die Website, für die du ein Zitat veröffentlichen möchtest, bereits vergeben ist, musst du warten, bis der Benutzer, der ein Zitat veröffentlicht hat, die Sperrfrist für 7 Tage überschritten hat.
Nachfolgend findest du die entsprechende Punkteanzahl, die du erhalten kannst:
| | |
| --- | --- |
| RANK | POINTS |
| 1-100 | 125,000 |
| 101-200 | 100,000 |
| 201-300 | 75,000 |
| 301-400 | 50,000 |
| 401-500 | 37,500 |
| 501-1,000 | 25,000 |
| 1,001-5,000 | 17,500 |
| 5,001-10,000 | 12,500 |
| 10,001-50,000 | 10,000 |
| 50,001-100,000 | 7,500 |
| 100,001-150,000 | 5,000 |
| 150,001-200,000 | 2,500 |
| 200,001-500,000 | 1,500 |
| 500,001-up | 500 |
*WICHTIG! Social-Media-Beiträge werden nicht als Zitate im Internet akzeptiert. Du musst das Zitat machen, indem du einen Kommentar in einem Forumsbeitrag oder einen Artikel veröffentlichst, der sich auf das Spiel bezieht, für das du ein Zitat verfasst. Du darfst das Zitat im Artikel / Beitrag nur einmal machen – Du wirst zum zweiten Mal nicht für ein Zitat belohnt. Die Zitierungen werden nicht für Backlinks durchgeführt.