Ron Gilbert kündigt neues Monkey Island-Sequel an
Ron Gilbert kündigt die lang erwartete Fortsetzung von Secret of Monkey Island an, wobei Gilbert zum ersten Mal seit Jahrzehnten wieder an der Serie arbeitet.
Von 
  Daniel  | 

  gamepartner78
RETURN TO MONKEY ISLAND ANGEKÜNDIGT
---
Ron Gilbert kündigte in einem Blogbeitrag an und bestätigte später in einem Tweet, dass ein neues Monkey Island-Spiel im Jahr 2022 erscheinen wird.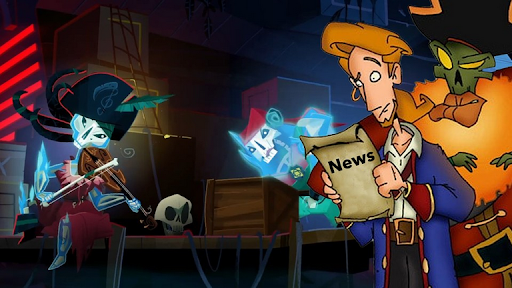 Mit Return to Monkey Island kehrt Gilbert zum ersten Mal seit 1991 zu der von ihm geschaffenen Serie zurück. Der kurze Ankündigungs Trailer zeigt Gilberts typischen 2D-Kunststil und Humor.
In seinem Tweet verriet Gilbert, dass Return to Monkey Island bereits seit zwei Jahren im Geheimen in Arbeit ist.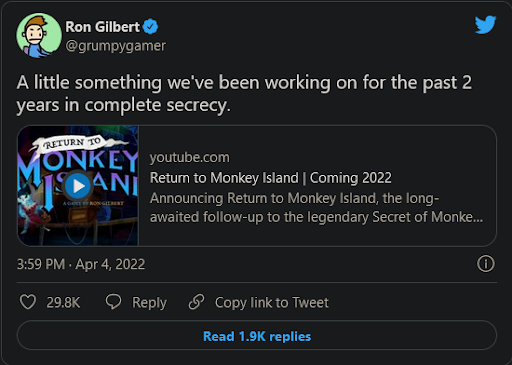 Return to Monkey Island wird zusammen mit Devolver Digital und der Disney-Tochter Lucasfilm Games entwickelt.
Es gibt noch kein Veröffentlichungsdatum für Return to Monkey Island, aber Gilbert sagt, dass es später im Jahr 2022 erscheinen wird.
---
RETURN TO MONKEY ISLAND BEI KEYFORSTEAM VORBESTELLEN
---
Für die neuesten Videospiel-News, Trailer und die besten Angebote solltest du uns ein Lesezeichen setzen.
Du kannst alle besten und günstigsten Online-Angebote für preiswerte Return to Monkey Island CD-Keys, Spiel Codes, Geschenkkarten und Antivirus-Software von den verifizierten CD-Key-Verkäufern auf unseren Shop-Seiten finden.
---
WEITERE RELEVANTE ARTIKEL
---