PC-Spiele Release für Juni 2018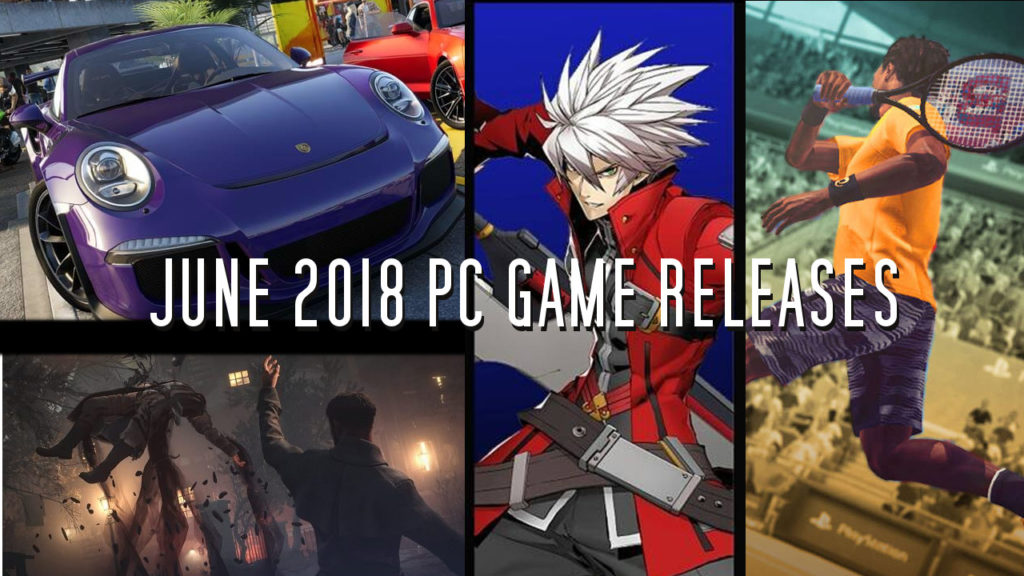 Ein weiterer Monat, eine weitere Runde PC-Spiele, die veröffentlicht werden. Hier sind die größten Titel dieses Monats.  Perfekt für den Fall, dass du dein Spiel bereits durchgespielt hast und ein anderes Spiel brauchst, um dich zu beschäftigen. Es gibt ein paar mit Spannung erwartete Releases, plus ein paar kleinere Edelsteine, um dieses  Paket voll zu machen. Also, ohne weitere Umschweife, hier sind die PC-Spiel-Versionen für Juni 2018:
---
PC Game Release für Juni 2018
---
BlazBlue Cross Tag Battle – 5. Juni
---
---
Die neuesten 2D-Fighter-Charaktere von Arc System Works stammen aus ihrer eigenen BlazBlue-Serie, Atlus 'Persona 4 Arena, French Breads Under Night In-Birth und Rooster Teeths äußerst beliebte RWBY in rasanten 2v2-Schlachten mit der stilvollen Anime-Kunst und -Präsentation, für die  die Entwickler bekannt sind.
---
Vampyr – 5. Juni
---
---
DontNods nächstes Abenteuer zieht das Jugenddrama ab und geht voll auf übernatürliches, mit einer erstaunlichen Erholung im London 1918. Als Dr. Jonathan Reid musst du das Leben am Tag retten und in der Nacht einnehmen. Du musst deine Entscheidungen berücksichtigen, da deine Handlungen letztendlich die Stadt retten oder verderben können.
---
Warhammer 40,000: Inquisitor – Martyr – 5. Juni
---
---
Werde einer der Inquisitoren, Spezialagenten auf einer Mission, die Unreinen zu säubern und das Imperium vor Korruption zu schützen. Inquisitor – Martyr ist das erste ARPG-Set im Warhammer 40K-Universum und bietet eine vollständige Singleplayer-Kampagne und einen 4-Spieler-Koop-Modus.
---
Shaq Fu: A Legend Reborn – 5. Juni
---
---
Nachdem Saber Interactive mit mehreren Lizenzproblemen zu kämpfen hatte, wird nun endlich auch das rasante, dynamische Beat-Em-Up von Shaquille O'Neal mit Shaquille O'Neals Charakter und Stimme veröffentlicht. Reise an verschiedene Orte auf der Welt und besiege einzigartige Feinde und verrückte Bosse.
---
Nobunaga's Ambition: Taishi – 5. Juni
---
---
Wähle aus über 2000 Offizieren aus und erobere Japan in diesem historischen Strategiespiel. Beauftrage deine Leute und überlege sorgfältig, welche Richtlinien umgesetzt werden, baue diplomatische Beziehungen mit anderen Clans auf oder teste deine Strategie, wenn du dich im Kampf auf den Weg machst.
---
Antigraviator – 6. Juni
---
---
Tritt ein in die Zukunft des Rennsports mit hochgradig anpassbaren und aktualisierbaren Graves, Hochgeschwindigkeits-Anti-Gravitations-Rennfahrzeugen. Tritt über den geteilten Online-Bildschirm oder online an und fahre deinen Weg an die Spitze der weltweiten Bestenlisten und verdiene dir spezielle Ranglisten-Skins, um deinen Status zur Schau zu stellen.
---
MotoGP 18 – 7. Juni
---
---
Erfülle deinen Traum, ein professioneller Fahrer zu werden und fahre durch den Red Bull MotoGP Rookies Cup bis zur Premier Class des MotoGP Race. Überwinde alle 19 offizielle Strecken, darunter der neue Buriram International Circuit in Thailand und eine neue Ausgabe der MotoGP eSport Championship.
---
Super Bomberman R – 12. Juni
---
---
Jedermans Favorit Der weiße Bomber ist zurück! Begib dich alleine oder mit einem Freund durch den Story-Modus und besiege den Bösen Imperator Buggler.  Im Battle-Modus erfährst du das klassische Bomberman-Chaos oder verbünde dich im brandneuen Grand Prix-Modus mit einem Partner. Triff neue Helden und beweise deine Fähigkeiten der Zerstörung. Boom!
---
Tennis World Tour – 12. Juni
---
---
Nachdem es letzten Monat auf den Konsolen veröffentlicht wurde, kommt die Tennis World Tour endlich am PC an. Das Spiel bietet 31 der besten Spieler der Welt mit allen dargestellten Spielstilen – Grundlinienverteidiger, Server & Volleyspieler usw. Verschiedene Oberflächen beeinflussen auch das Gameplay, also stelle sicher, dass deine Tennistaktiken bereit stehen.
---
Wreckfest – 14. Juni
---
---
Müde von langweiligen alten Rennfahrern? Nun, gehe raus und zerstöre die Konkurrenz … buchstäblich. Dies ist ein Destruction-Derby-Rennspiel, bei dem epische Crashs und Kopf-an-Kopf-Kämpfe zu erwarten sind. Komplett mit tollen Autos, aussagekräftigen Anpassungen und einem kompetitiven Multiplayer, ganz zu schweigen von der Mod-Unterstützung!
---
Lego The Incredibles – 15. Juni
---
---
Erlebe ein unterhaltsames Familienabenteuer im Lego-Stil und erfahre die Ereignisse des ersten Films, sowie der Fortsetzung alle neuen Abenteuer in einem Spiel! Besiege Bösewichte, bremse die Verbrechenswelle und stelle deine Superkräfte auf die Probe. Es wird gewiss ein unglaubliches Abenteuer werden.
---
Pro Cycling Manager 2018 – 28. Juni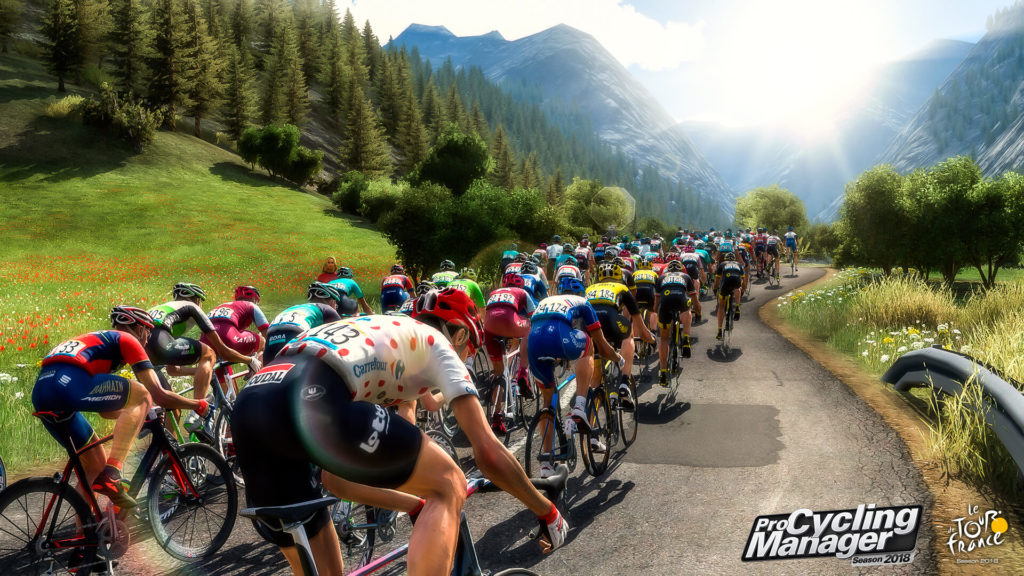 ---
---
Verwalte dein eigenes Profi-Radsport-Team und führe deine Fahrer bis zur Saison 2018 zum Sieg. Mit über 200 Rennen auf 500 Bühnen auf der ganzen Welt, darunter berühmte Touren wie La Vuelta und Tour de France. Stelle die besten Radfahrer und Mitarbeiter ein, verhandle Verträge, erhalte Patenschaften und verwalte die Renn- und Trainingspläne. Du bist das Herz des Teams!
---
Crash Bandicoot N. Sane Trilogy – 29. Juni
---
---
Crash Bandicoot ist zurück und komplett remastered! Springe, drehe und wühle dich durch die ersten drei Abenteuer des geliebten Beuteltieres – Crash Bandicoot, Cortex Strikes Back und Warped. Coco, die Schwester des Titelhelden, ist ebenfalls dabei und kann die meisten Level aller 3 Spiele spielen.
---
The Crew 2 – 29. Juni
---
---
Rase über die USA an Land, zu Wasser und in der Luft. The Crew 2 ist eine einzigartige Open-World-Version des amerikanischen Motorsports, bei der die Spieler mit Land-, Wasser- und Luftfahrzeugen rennen, wobei sie jederzeit zwischen den verschiedenen Typen wechseln können. Es ist nur ein epischer Moment nach dem anderen, der darauf wartet, sich zu entfalten.
---
MXGP Pro – 29. Juni
---
---
Es ist das realistischste MX-Erlebnis aller Zeiten! Werde der ultimative Fahrer und klettere im Karrieremodus nach oben. Teste deine Fähigkeiten mit 30 verschiedenen Herausforderungen. Erlerne das Fahren durch den Compound Trainingsbereich. Das Beste ist, dass der 9-fache Weltmeister Antonio Cairoli dir alles zeigen wird. Am besten lernt man schließlich von den Besten.
---
Und das sind die PC-Spiele dieses Monats. Wenn dir einer dieser Titel ins Auge fällt, solltest du dir unbedingt die Spieleseiten von Keyforsteam ansehen, um die besten Angebote im Internet zu bekommen.
---