Mai 2015 | PC Spiele Release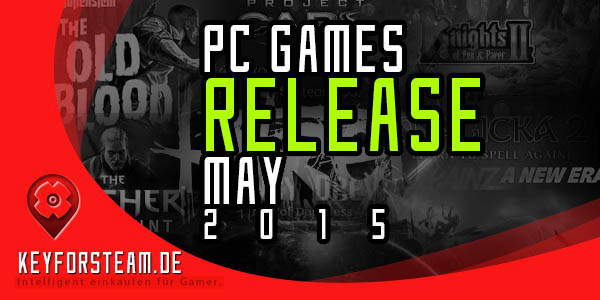 ---
WOLFENSTEIN: THE OLD BLOOD
PC, PS4, Xbox One Bethesda Softworks Arcade Release: 05.05.2015
Story: Wolfenstein: The New Blood ist der Nachfolger zu Wolfenstein: The New Order und umfasst acht zusätzliche Kapitel und zwei miteinander verwobene Geschichten. In der Rolle des Kriegshelden B.J. Blazkowicz versucht ihr die Pläne des Regimes zu durchkreuzen und dafür könnt ihr brandneue Waffen wie das Repetiergewehr und die spezielle Kampfpistole nutzen. Macht euch auf einen Kampf gegen spektakuläre Nazi-Zombies gefasst und auf ebenso sehr komische Begegnungen mit sehr alkoholisierten Soldaten.
---
TERRAFORM
PC Holgersson Entertainment Puzzle Release: 08.05.2015]
Story: Eine einzigartige Welt erwartet dich. 230 Planeten – mit Bergen, Wasser, Wälder, Wüsten, Siedlungen und Vulkanen- 4 Wetterlagen!  – Wind, Regen, Hitze und Schnee. Dir stehen 13 verschiedene "Werkzeuge" zur Verfügung, um die Umwelt zu verändern. Ob du einen Wald anlegst, Gebiete besiedelst oder dich zurücklehnst, entspannst und darüber nachdenkst, was du als Nächstes tun wirst….  Dies könnten auch Naturkatastrophen wie Waldbrände oder Hurrikans sein.  Beginne deinen erstem Job in der Universität,  zeig, was du kannst und übernehme schließlich die großen Konzerne. Ob du es für dich im kleinen "Kämmerlein oder im Wettkampf mit den  Online-Bestenlisten tust. Es ist deine Entscheidung!
---
KNIGHTS OF PEN & PAPER 2
PC Paradox Interactive General Release: 14.05.2015]
Story: Knights of Pen & Paper 2 ist  der Nachfolger zur Gold-Prämierten Pen&Paper-Hommage von Behold Games. Ein Grafik Update von 8-bit auf 16-Bit-für die Kulissen und ein überarbeitetes Kampfsystem machen das rundenbasierte Rollenspiel zum Hingucker. Ihr wählt zwischen Charakteren aus Wizard, Thief, Elfen und Zwergen und weiteren Neuen.
Stürzt euch in ein Abenteuermit viel neuer Beute, erweiterten Craftings sowie dynamisch generierte Verliese.
---
TRAINZ: A NEW ERA
PC Deep Silver Train Simulation Release: 15.05.2015
Story:  Mit Trainz: A New Era wird die Trainz-Serie vollständig umgekrempelt und aufgemöbelt.  Mit der brandneuen Grafik-Engine werden historische und moderne Routen zum Leben erweckt. Schöner, als die Realität erlaubt! Steuere die berühmtesten Lokomotiven erkunde faszinierende Routen. Von exotischen Orten bis zu Metropolen weltweit in hunderten Stunden Spielspaß. Ob du dabei allein reist, oder dich im Mehrspielermodus mit Freunden auf den Weg machst… Hol dir dein Fahrticket!
---
THE WITCHER 3: WILD HUNT
PC Warner Bros. Interactive Entertainment Action RPG Release: 19.05.2015
Story:  Wolltest du schon immer einmal Monster abschlachten und dafür noch bezahlt werden? Dann bist du bei The Witcher 3: Wild Hunt genau richtig! Als Auftrags-Killer in einer einer offenen Fantasy-Welt bist du mit eigenen Problemen und moralischer Indifferenz unterwegs, um das Kind aus einer Prophezeiung zu suchen. Grafisch wird dir dieses Game buchstäblich den Atem rauben und die packende Story lässt dich über 200 Spielstunden nicht los. Mach dich auf den Weg durch Handelsstädte, über Wikinger-Pirateninseln, vergessene Kavernen und ganz gefährliche Gebirgspässe.
---
NANCY DREW: SEA OF DARKNESS
PC Her Interactive Point-and-Click Release: 19.05.2015  
Story:  Her Interactive bringt mit Sea of Darkness die 32. Folge der Nancy Drew Point-and-Click-Adventure-Serie heraus. Du schlüpfst in die Rolle (Ego-Perspektive) des Amateurdetektivs Nancy Drew und versuchst Geheimnisse,  durch Vernehmungen von Verdächtigen zu lösen und Hinweise zu entdecken. Dabei gibt es zwei Ebenen von Gameplay, Amateur und Master-Detektiv-Modi. Diese fordern dich jeweils mit unterschiedlichen Schwierigkeitsgraden der Rätsel und Hinweise heraus, welche aber keine Änderungen auf die eigentliche Handlung des Spielshaben. Es wird das letzte Spiel zu Lani Minella als die Stimme von Nancy Drew sein.
---
MAGICKA 2
PC Paradox Interactive Fantasy Release: 26.05.2015  
Story: Lass dich von Magicka 2 verzaubern! Das weltweit satirischste Koop-Action-Abenteuer kehrt aus den Ruinen von Aldrheimto zurück. Eine Zeit nach dem großen Krieg der Zauberer, den nur ganz wenige überlebt haben und seitdem ein bisschen "anders" sindDoch genau mit denen  verbündest Du Dich, um die Welt vom Bösen zu befreien. Du bist dabei ein übermächtiger und sehr humorvollster Zauberer, der quasi unbesiegbar ist. Der Zauberer deiner wildesten Phantasie!
Lerne wieder zu zaubern!
---
HATRED
PC Destructive Creations Shooter Release: 28.05.2015
Story: In Hatred geht es um einen Kerl, der die Schnauze von seinem Leben echt voll hat und diesem ein Ende setzen will. Dabei hat er es sich zur Aufgabe gemacht, möglichst viele Leute "mitzunehmen".
Was ein Shooter – gewalttätiger geht es kaum. Selbst die wenig zimperliche USA stuft dieses Spiel als ganz hartes Pflaster ein und verpasst ihm prompt den Verweis " Only Adults" – und das muss schon was heißen! Extrem gewalttätig! Und somit kommt Hatred definitiv für die Konsolen NICHT auf den Markt!
Seid ihr stark genug?
---
PROJECT CARS
PC / Xbox One /  PS4 Namco Bandai Race Release: May 2015
Story:  Project CARS ist eines der beeindrucktesten Rennspiele überhaupt und glänzt mit seiner Authentie, überwältigenden Technik  und Intensivität. Erstelle deinen Fahrer, dein Auto aus einem riesigen Spektrum an Möglichkeiten und jage den Pokalen hinterher, um in der Hall of Fame verewigt zu werden. Dabei wird dir die größte Streckenauswahl aller Zeiten mit bahnbrechender Wetterdynamik und Weltklasse Grafik definitiv gefallen.
Einsteigen – Anschnallen und Gas geben! – Die Konkurrenz Staub schlucken lassen!
---