Hier sind die neuen Spiele Release im Dezember 2017!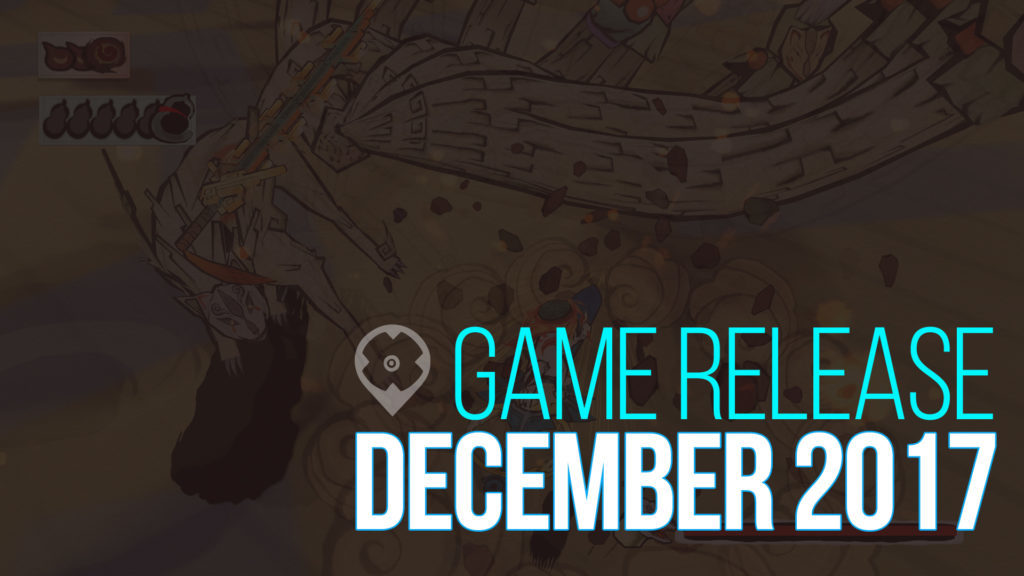 ---
Wahnsinn, 2017 ist fast vorbei! Dieses Jahr war definitiv ein Jahr für Videospiele, und hier sind die Spiele, die im Dezember 2017 veröffentlicht werden, aufgelistet!
Im Dezember kommen ein paar VR-Spiele von zwei der größten Spiele, Doom und Fallout 4. Es werden auch noch weitere Spiele in diesem Monat erscheinen, also schaut euch unsere Liste an, und vielleicht findet ihr eins, oder zwei, die euch interessieren.
Lass uns in den Kommentaren unten wissen, auf welches dieser Spiele du wartest!
---
Games Releasing on December 2017
---
DOOM VFR
Release Datum: 1. Dezember
---
---
DOOM VFR bringt die DOOM-Erfahrung in die virtuelle Realität! Dieses eigenständige Spiel wurde speziell für VR-Geräte HTC Vive und die Playstation VR entwickelt. Das Spiel wird klassische Karten Toxic Refinery und Nuclear Plant enthalten. Das Gameplay ist im Prinzip dasselbe wie das Spiel am PC, mit freier Bewegung und Teleportation als Bewegungsoptionen.
---
Seven The Days Long Gone
Release Datum: 1. Dezember 2017
---
---
Seven: The Days Long Gone ist ein offenes, isometrisches Rollenspiel mit einem post-apokalyptischen Thema. Die Spieler übernehmen die Rolle von Teriel, einem Meisterdieb. Nachdem ein Raubüberfall verübt wurde, befindet sich Teriel in einem Luftschiff, welche an die Gefängnisinsel Peh gebunden ist. Und das ist nicht alles, Teriel hat einen Dämon in seinem Kopf und er muss seinen Befehlen gehorchen. Wird er die Insel überleben und sich von den Dämonen in seinem Kopf befreien können?
---
Steep Road to the Olympics
Release Datum: 5. Dezember 2017
---
---
Steep Road to the Olympics ist die Erweiterung für das Open-World-Wintersport-Spiel Steep. Mit dieser Erweiterung kannst du als Athlet spielen, der auf einer Reise zum Olympiasieger ist. Es wird dir eine  riesige,  offene Welt geboten,  die die Alpen und ikonische japanische Berge umfasst. An diesen Orten trainierst du, bevor du dich den Qualifikationsspielen für die Pyeongchang-Winterspiele 2018 in Pyeongchang, Südkorea, anschließt.
---
SpellForce 3
Release Datum: 7. Dezember 2017
---
---
RTS und RPG in einem Spiel? Ja bitte! Spellfoirce 3 kombiniert Echtzeit-Strategie und Rollenspiel-Elemente in einem Spiel mit einer epischen Geschichte, einem reichem Universum und Überlieferungen, Heldenanpassungen und vielem mehr! Außerdem bietet es mehr als 30 Stunden Einzelspieler-Kampagne,  sowie Koop- und kompetitive Multiplayer-Modi.
Eo, wie der Charakter genannt wird, hat in der Welt des Spiels eine Menge zu entdecken, und wenn du sie erforschst, wirst du Intrigen, Geheimnisse und natürlich eine Menge Beute entdecken!
---
Autobahn Police Simulator 2
Release Datum: 7. Dezember 2017
---
---
Werde Gesetzeshüter im Autobahnpolizei-Simulator 2! Mit diesem Spiel kannst du deine Karriere als Gesetzesvollstrecker in den Straßen Europas beginnen. Ausgehend von einer Polizeistation wirst du verschiedene Aufgaben und Missionen übernehmen, um Zugang zu neuen Missionen und Möglichkeiten zu erhalten.
Du kannst ebenfalls  im Rang aufsteigen, indem du verschiedene Missionen wie High-Speed-Verfolgungsjagden ausführst, Unfälle sicherst, den Verkehr kontrollierst  oder eskortierst.
Neu in diesem Jahr in Autobahn Police Simulator 2 ist, dass das Spiel nun eine Geschichte hat, die aus 20 Missionen besteht, von denen jede durch Zwischensequenzen unterbrochen ist.
Autobahn Police Simulator 2 verfügt auch über Stunden um  Stunden des Spielens, da es auch zahlreiche Open-World-Funktionen hat.
---
Hello Neighbor
Release Datum: 8. Dezember 2017
---
---
Wolltest du schon mal in das Haus deines Nachbarn schleichen? Nun, Hello Neighbour lässt dich genau das machen, aber in Spielform. Dieses Stealth-Horror-Spiel versetzt dich in die Rolle von jemandem, der gerade in einen brandneuen Vorort gezogen ist. Dann bemerkst du, dass dein Nachbar aussieht, als ob er etwas in seinem Keller verstecken möchte, also ist es dein Ziel, in sein Haus einzubrechen und herauszufinden, was er vorhat.
Hello Neighbor verfügt über ein extrem intensives Gameplay dank der intelligenten KI, die bei jeder Bewegung lernt. Es bietet dir auch reiche Pixar-Stil Visuals. Es wird dich fesseln!
---
Fallout 4 VR
Release Datum: 12. Dezember 2017
---
---
Ein weiteres Virtual-Reality-Spiel wird im Dezember in den Handel kommen! Fallout 4 VR beinhaltet das komplette Kernspiel sowie ein brandneues Kampf-, Bau- und Handwerkssystem – alles komplett neu für die virtuelle Realität!
---
Okami HD
Release Datum: 12. Dezember
---
---
Okami ist zurück und es sieht großartig aus! Okami HD ist die Wiederveröffentlichung des populären Spiels 2006, mit atemberaubenden 4K-Grafiken, interaktiven Ladebildschirmen (auch im Originalspiel zu finden) und dem charakteristischen Sumi-e-Tintenkunststil, für den das Originalspiel geliebt wurde.
Du wirst die Rolle der japanischen Sonnengöttin Amaterasu übernehmen, die auf der Suche nach dem achtköpfigen Dämon Orochi ist.
---