Destroy All Humans startet im nächsten Monat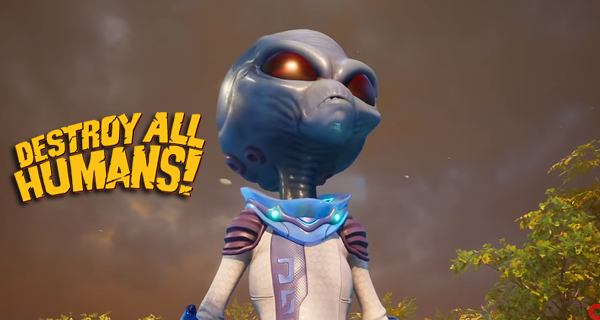 Die Neuauflage von "The Remake of Destroy All Humans" startet im Juli!
Der Kultklassiker Destroy All Humans! wird demnächst als Remake erscheinen, und vor dem Start haben THQ Nordic und Black Forest Games einen Trailer veröffentlicht, der ein wenig von dem Gameplay zeigt, das Sie bei der Veröffentlichung des Spiels erwarten können.
---
---
Der Trailer Welcome to Turnipseed Farm für Destroy All Humans! zeigt, wie Crypto sein UFO auf einem Bauernhof landet und einige Kühe mit Telekinese manipuliert, bevor er sie wirft, und dann damit fortfährt, Menschen durch Stromschlag zu vernichten. Dann hebt Crypto mit seinem UFO von der Farm ab, bevor er das Feld in Brand setzt.
Destroy All Humans! wurde aufgrund seiner perfekten Mischung aus Humor und Gewalt sofort ein Hit bei den Fans, und diejenigen, die mit der Serie vertraut sind, werden sich freuen, den gleichen Spielstil im neuesten Trailer zu sehen.
Falls Sie das Gameplay noch nicht gesehen haben, haben wir es unten für Sie zusammengestellt:
Für diejenigen, die es kaum erwarten können, das Spiel in die Hände zu bekommen, vergessen Sie nicht, dass es jetzt auf GOG eine Demo gibt, die Sie herunterladen und durchspielen können. Die Demo enthält die erste Mission des Spiels sowie als Bonus eine Challenge-Mission und ist zwischen 20 und 30 Minuten lang.
Das Original Destroy All Humans! erschien am 21. Juni 2005 für PlayStation 2 und Xbox und enthält Cyptosporidium 137 (Crypto) als Hauptfigur, einen Krieger und ein Mitglied der Furons, einer Rasse von Außerirdischen, die sich der Eroberung neuer Welten verschrieben hat.
GOG.com beschreibt das Remake wie folgt:
Destroy All Humans! ist das Remake, auf das die Fans dieses Kultspiels, das inzwischen zu einem Klassiker geworden ist, gewartet haben. Diese Demo bietet einen Überblick darüber, was dieses von schwarzem Humor durchzogene Alien-Invasionsspiel zu einem der beliebtesten Adventure- und Actionspiele aller Zeiten macht:
Setzen Sie Ihren Jetpack auf, ziehen Sie Ihren Zap- O-Matic und fangen Sie an, diese armseligen Menschen mit Stromschlägen zu töten!
Setzen Sie Psychokinese ein, um Menschen, Kühe und viele andere Dinge zu fangen, und schießen Sie sie dann auf Ihre Feinde ab!
Zerstören Sie die primitiven menschlichen Behausungen mit dem vernichtenden Strahl Ihrer fliegenden Untertasse zu Asche!
Nehmen Sie eine der ganz neuen Rapt-O-Herausforderungen an: Füttern Sie den kolossalen Rapt-O-Ray, um der Furon-Art zu helfen, das Leben auf der Erde zu studieren.
Destroy All Humans startet am 28. Juli 2020 und wird für PlayStation 4, Xbox One und PC erhältlich sein.
AUCH AUF KEYFORSTEAM-NACHRICHTEN
---
| | |
| --- | --- |
| | Die Destroy All Humans Remake-Demo ist jetzt über Good Old Games (GOG) zum Herunterladen und Spielen auf dem PC verfügbar. |
---